National Lottery: Why do people still play?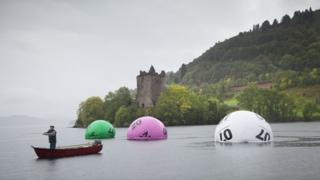 An overhaul of the lottery is to double the price of a ticket, but its operator says this will mean more winners than ever. Even then, the odds are still stacked against a windfall.
So after almost 19 years of rollovers and bonus balls, what keeps people coming back?
"The country will be a lot richer because of the lottery," declared then-Prime Minister John Major, launching the first National Lottery in November 1994.
Millions have tested the theory and continue to do so.
While sales for the traditional Saturday night draw have fallen, the explosion of spin-offs and scratch cards has - according to Camelot - increased the size of the National Lottery by 50% in a decade.
Camelot managing director Andy Duncan says about half of the population play the lottery at least once a month.
There is plenty of historic precedent for the success - China's Han Dynasty reportedly launched the first lottery in 205 BC to help pay for the Great Wall.
And yet the odds of winning are anything but favourable.
Those with their sights set optimistically on the National Lottery jackpot have a one in almost 14 million chance - the same odds of temperatures soaring beyond 30C (86F) in London on Christmas Day, according to Ladbrokes.
Neal Stewart, a professor of psychology at Warwick University, believes the slim prospect of a big event can cloud reason.
"It works in the same way with the probability of bad things happening - such as a person's fear of the plane they're flying in crashing" he said.
"People believe that rare events are more likely when there is an emotional context to them. They focus on the emotion and don't acknowledge the chances of it happening.
"If you don't play the lottery you definitely can't win. If you want to indulge the dream you have to have a ticket."
And plenty do succeed. About six million players win a prize of some scale every week and since 1994 more than 3,400 people have become millionaires by playing the National Lottery.
But even for the biggest winners it is not always a guarantee of prosperity. Stories about squandered lottery fortunes are a source of fascination for many - perhaps none more so than the rise and fall of Michael Carroll, who eight years after wining £9.7m had spent it all.
Others are more pragmatic about their winnings.
Jackie and John Livesley, of Stoke-on-Trent, won £2.6 million on the National Lottery in 2008 after faithfully buying tickets for 14 years.
The couple have moved house, bought a holiday lodge in Wales and take regular trips with their grandchildren. They have both taken up golf.
But their spending has been notably moderate - Jackie continued in her job with the probation service for another two years.
"You have got to be careful," she said.
"There have been people who've won more than us and it has been spend, spend, spend and they've ended up back where they've started.
"You can't just put it in a bank and expect to make millions in interest."
For Jackie, the enduring appeal is probably the freedom to make choices offered by a windfall.
"It has made life a lot easier" she said.
"I loved my job and it was a big part of my life, but when it changed and I didn't want to stay I was lucky enough to be able to leave."
So why do players opt for lottery tickets rather than a flutter on an unlikely Christmas heat wave?
They do not see buying lottery tickets in the same way as gambling, according to Leighton Vaughan Williams, a betting expert at Nottingham Business School - and that is unlikely to change.
"They see it as buying a dream. Now it's going to cost them £2 to a buy the dream instead of £1 to buy the dream" he said.
"The lottery has been doing quite well, especially since 2002. That's because they keep reinvigorating the game - and that's part of what they're doing now."