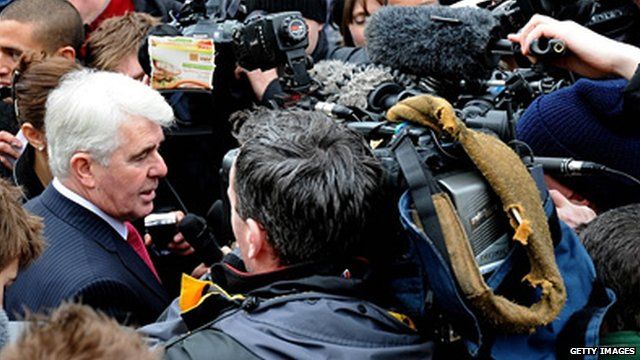 Publicity agent Max Clifford has been at the forefront of many celebrity exposes, using his public relations expertise to promote and protect stars, politicians and sportspeople.
But the media spotlight has turned on him, as he goes on trial accused of 11 counts of indecent assault relating to seven alleged victims, ranging in age from 14 to 20, between 1966 and 1984.
Born in 1943 and brought up in South Wimbledon, London, Mr Clifford left school at 15 with no qualifications.
According to his own website he was sacked from his first job as a shop assistant and trained as a journalist before moving to press relations, beginning at EMI Records in 1962, promoting The Beatles.
At the age of 27 he started his own company, Max Clifford Associates, looking after UK press relations for big names such as Marlon Brando, Frank Sinatra and Muhammad Ali.
But it was a far lower-key performer who brought Mr Clifford into the public eye in 1986.
Comedian Freddie Starr was looking to drum up coverage for a forthcoming tour and Mr Clifford invented a story about him making a rodent sandwich after a late night gig.
It spawned the notorious headline "Freddie Starr Ate My Hamster" in the Sun.
The publicity agent went on to handle numerous kiss-and-tell stories including the 1989 case of Pamella Bordes, who had been dating an arms dealer, a Conservative MP and a newspaper editor at the same time.
High-profile clients came to him because of his excellent connections in the tabloid press - and journalists turned to Mr Clifford to provide stories.
He was behind many of the tabloid scoops of the following decade. In one month alone in 1999 he brokered three stories which dominated headlines - Lord Archer's perjury, Cherie Blair's pregnancy and sexual allegations against Gary Glitter.
A decade later, Mr Clifford was at the centre of the media storm surrounding the deteriorating health of celebrity TV star Jade Goody - and while he continued to act as her spokesman and representative up to her death in March 2009 aged 27, he admitted the role became increasingly difficult - at one time suggesting of her media appearances that "enough is enough".
Max Clifford usually manages to work on both sides of the fence, protecting his clients' interests while making sure the press get the sensational lines they demand.
His own website, which solicits stories from the public, says Mr Clifford is "often poacher and gamekeeper at the same time".
Much of his role in recent years has involved stopping information about his clients getting into the public eye - giving him leverage for future deals.
The job is not without its dangers. He received death threats over his dealings with OJ Simpson and the five men who were suspected of the 1993 killing of Stephen Lawrence - two of whom were convicted of the murder in 2012.
Mr Clifford has always maintained he did not represent the Lawrence suspects but simply put them in touch with TV journalist Martin Bashir.
Sometimes, though, he has been on the wrong side of a story.
In 2005 he paid damages for defamation to Neil and Christine Hamilton after a client falsely accused them of sexual harassment.
The ongoing phone-hacking trial has also heard that Mr Clifford's voicemails were allegedly targeted by newspaper group News International.
Within the industry he is known to have his own set of firm but idiosyncratic principles and he identifies himself as a socialist.
He will sometimes take on cases for no charge. He helped two National Lottery players after they mislaid their winning ticket and lost out on a £3m prize.
He is also patron of the Royal Marsden Hospital, where Jade Goody received treatment, and has handled its media work for free.
His experience of bringing up his disabled daughter, Louise, has made him critical of successive governments' health policies - and keen to expose political hypocrisy.
But he says he has held back on more than 30 stories about politicians because he could not see any wrongdoing.
His wife Elizabeth of 40 years , the mother of his daughter, was diagnosed with lung cancer and died in 2003. Five years later he married his PA Jo Westwood.
In 2007, he was diagnosed with prostate cancer. But he did not speak about his condition until he had undergone treatment.