Military honours list includes soldier who fought with broken back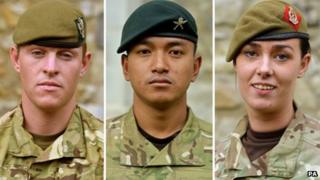 A soldier who battled Afghan insurgents despite breaking his back has been named in a list of military honours.
Cpl Josh Griffiths, 24, from Merseyside, is among 117 servicemen and women recommended for an award by their commanding officers for performing beyond the call of duty.
He fought off insurgents in March, in Nad Ali, despite having been injured when a bomb exploded at his base.
His Conspicuous Gallantry Cross is one of the highest military honours.
Most of the awards, including eight Military Crosses, were for those who fought in Afghanistan last winter.
The Queen will present the medals at an investiture ceremony at Buckingham Palace later this year.
'Adrenalin kicked in'
Cpl Griffiths, from the Mercian Regiment, was sitting down to eat a beef stir-fry at his base when a suicide bomber drove a truck into the wall.
Cpl Griffiths broke his back after being thrown by the blast, but in the firefight that followed, he protected his fellow wounded soldiers and stopped the insurgents.
"I heard lads screaming so the job just took over and I pushed forward, treated them and pushed forward again," he said.
"I think adrenalin kicked in."
His citation said he had returned fire as the base was hit with bullets and rocket-propelled grenades, allowing the casualties to be evacuated.
Also among those honoured is Acting L/Cpl Tuljung Gurung, from The Royal Gurkha Rifles.
The 28-year-old received the Military Cross for his gallantry and courage after he was shot in the helmet and almost blown up by a grenade before fighting hand-to-hand with an insurgent.
The pair fell from a guard tower as L/Cpl Gurung fought the attacker off with his kukri - the traditional Nepalese knife used by Gurkhas.
"I just thought, 'I don't want to die. If I am alive I can save my colleagues'," he said.
"I thought, 'Before he does something, I have to do something.' I was like a madman."
'Humbled'
Twenty-six-year-old Army medic L/Cpl Rachel Hughes, from Colchester, Essex, was also honoured for her service after saving lives on three different occasions during her first tour of Afghanistan.
She saved four Afghan children who had been trapped underwater when the tractor they were in overturned into a canal.
"You can't really prepare yourself for children, especially when you have relatives that age - I have nieces and nephews a similar age so it was a bit of a shock," she said.
"But then you just get on with it."
Rifleman Ben Taylor, 21 - a roofer from Shrewsbury - was awarded the Queen's Gallantry Medal after he risked his life to save his colleagues when their vehicle slid into a canal.
And Private Ryan Houston, from the Royal Regiment of Scotland, received a Mention in Despatches for his actions when a rogue Afghan soldier turned on coalition troops during a Remembrance Day football match in Helmand province.
Announcing the awards, Lt Gen Sir Adrian Bradshaw said: "I am humbled by the achievements of our servicemen and women.
"Collectively, they have proved with good people you can achieve anything."
Brig Bob Bruce, commander of the operation in Afghanistan from last September until April, added: "Their bravery and professionalism are astonishing."
The names of military personnel from all three services are included in the latest operational honours list, published in the London Gazette.
Men and women are nominated by their commanding officers every six months in recognition of their bravery.