'Plebgate' inquiry: CPS to decide on charges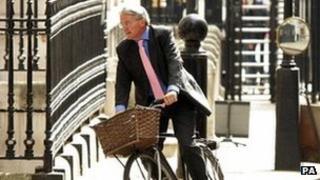 The Crown Prosecution Service (CPS) says it has received all the evidence about the "plebgate" row and will decide if charges should be brought.
Eight people have been bailed in the inquiry following a row involving ex-government chief whip Andrew Mitchell.
Mr Mitchell apologised for not treating police officers with respect during the incident at Downing Street's main gate in September 2012.
But he denies newspaper claims that he called police "plebs".
Five police officers are among those arrested as part of Operation Alice, which is the investigation into alleged misconduct as well as the unauthorised leaking of information to newspapers about the incident, after which the Conservative MP quit the cabinet.
Mr Mitchell was accused of launching a foul-mouthed tirade at officers guarding Downing Street when he was asked not to take his bike through the street's main gates.
Additional evidence
MPs from across the political spectrum - including former Home Secretary Jack Straw - have criticised how long the investigation has taken.
On Friday the Metropolitan Police said that it handed its first file of evidence to the CPS on 28 March, but three pieces of information were subsequently added.
The Met said the "final lines of inquiry have now been completed" and that a copy of the file of evidence had been passed to the Independent Police Complaints Commissions.
A CPS spokesman said: "We have now received all of the outstanding evidence in this case and are now considering the file to determine whether charges should be brought."
"We aim to make a decision as soon as is reasonably possible."
In an interview on Friday with the BBC's Sunday Politics West Midlands, Mr Mitchell said it had been "an extraordinarily difficult year" that had "taken a very considerable toll on my family and on me".
"But I've been getting on with looking after my constituents in Sutton Coldfield and I'd like to express my deep gratitude to them and my many friends who've given me such trenchant support throughout this difficult time," he added in the interview, which was recorded prior to the CPS' announcement.