Madeleine McCann's parents 'greatly encouraged' by new inquiry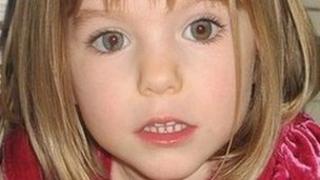 The parents of missing Madeleine McCann have said they are "greatly encouraged" by new information about their daughter's disappearance.
Madeleine was three when she went missing in Portugal, in May 2007.
A reconstruction of events surrounding her disappearance will be broadcast on the BBC's Crimewatch on 14 October.
Kate and Gerry McCann said "pieces of the jigsaw" had started fitting together since Scotland Yard opened its own investigation in July.
Police have said the Crimewatch appeal, which will also be broadcast in the Netherlands and Germany, is based on the "latest, most detailed understanding" of events.
It comes after police said phone records may be key to the case.
Officers from the Metropolitan Police are analysing data from phones belonging to people who were in the Portuguese resort of Praia da Luz at the time of Madeleine's disappearance. They say 41 people of interest have been identified.
Madeleine, from Rothley, Leicestershire, went missing from a holiday apartment as her parents dined at a nearby tapas restaurant with friends at the Algarve resort.
Her parents said: "We are greatly encouraged by new information coming to light with pieces of the jigsaw now fitting together.
"We're really hopeful the forthcoming Crimewatch appeal will bring further new evidence which will take us a step closer to finding Madeleine and to bringing those responsible for her abduction to justice."
'Hold the key'
The Metropolitan Police also said they hoped the reconstruction would produce new lines of inquiry.
Detectives, who have interviewed 442 people as part of their investigation - codenamed Operation Grange - are attempting to track down as many people present in the Portuguese resort around 3 May 2007, when Madeleine disappeared, as possible.
Senior investigating officer, Det Ch Insp Andy Redwood, said: "We now believe we have the most complete picture to date of the events surrounding her disappearance.
"We are making targeted and new appeals for help from the public.
"I truly believe there are people out there who hold the key to Madeleine's disappearance, and that so far they may be completely unaware of that fact."
A three-year-old actress will play Madeleine in the Crimewatch reconstruction. A small production team from the programme spent a week filming abroad for the new appeal.
The McCanns and Mr Redwood will also speak to presenter Kirsty Young live in the studio.
The Portuguese investigation officially closed in July 2008, but authorities are backing the Scotland Yard inquiry and officers from both countries will work together pursuing new leads.
The Metropolitan Police now has a team of six Portuguese detectives based in Faro who are carrying out inquiries on its behalf.