Camp Bastion report highlights security 'complacency'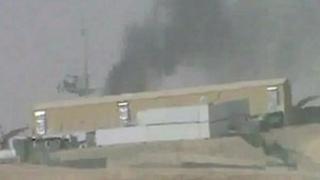 The MoD has said that it will consider the findings of a US review of the Taliban attack on Camp Bastion in 2012 in detail, to confirm the UK's earlier assessment that no further action was required.
The US investigation, which was partially declassified and put up online, includes criticism of the way Britain handled security at the base.
Although many of the documents posted online have been redacted, what is most surprising to a British reader is the openness of the US system in making public so many of the documents from the investigation in relatively full form online.
The investigation makes clear that one of the problems with security at Camp Bastion was how it had evolved piecemeal, with different parts devolved to different elements of multinational forces, leaving a lack of clarity over who was responsible for what and a sense, as one investigator put it, of complacency over camp security after 10 years without any serious or effective Taliban attack.
However, the strong impression from the statements from those involved is of an acceptance that military missions in hostile territory do carry risk, and that all commanders can do is to mitigate that risk to the highest degree possible within available resources.
Nonetheless, it was British forces who were responsible for the camp's security, a responsibility they were relieved of rapidly following the attack.
Some new US commanders told investigators they were surprised at the lack of an extra security perimeter around the airfield itself, and that only half the watchtowers were routinely manned. One unnamed witness said he had seen some of those responsible for security sunbathing.
The main difference between the US and UK response to the inquiry has been that the US has made its report public, and required two US generals to fall on their swords, perhaps partly because those who were killed were both American, while the US aircraft that were destroyed made this one of the Taliban's costliest attacks in terms of materiel during the course of this long war.
In the UK, both the report and any internal censure resulting from it have been done in private.