Snowden leaks 'worst ever loss to British intelligence'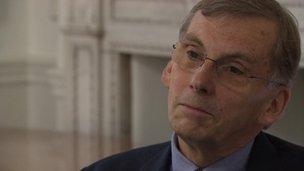 Leaked surveillance programme details have been the "most catastrophic loss to British intelligence ever", a senior UK security expert has said.
Former No 10 adviser Sir David Omand said he assumed data leaked by ex-US intelligence worker Edward Snowden was being analysed by Russia and China.
He said the breach was worse than that by the Cambridge spy ring in the 1950s.
The Guardian has said it will continue to publish leaks by Mr Snowden, who is now in Russia.
Meanwhile, Business Secretary Vince Cable said the newspaper had performed "a very considerable public service" - appearing to contradict his party leader Nick Clegg who described the publication of the leaks as damaging.
But former Home Secretary Jack Straw hit out at the Guardian saying its stance was "indulgent irresponsibility" which did not help protect the public.
Sir David, the former head of the UK's communications surveillance centre GCHQ, told the Times: "You have to distinguish between the original whistleblowing intent to get a debate going, which is a responsible thing to do, and the stealing of 58,000 top-secret British security documents and who knows how many American documents, which is seriously, seriously damaging.
"The assumption the experts are working on is that all that information or almost all of it will now be in the hands of Moscow and Beijing.
"It's the most catastrophic loss to British intelligence ever, much worse than Burgess and Maclean."
Donald Duart Maclean and Guy Burgess were among a group of British officials who met at Cambridge University and passed information to the Soviet Union during World War II and into the 1950s, other notable members being Kim Philby and Anthony Blunt.
In May, Mr Snowden leaked information to the Guardian about mass surveillance programmes such as the US National Security Agency's Prism and GCHQ's Tempora operations.
Mr Cable told BBC Radio 4' Today programme: "I think Mr Snowden's contribution is two-fold. One is a positive one - the whistleblowing, the other is more worrying which is a large amount of genuinely important intelligence material does seem to have been passed across.
"We do need to have proper political oversight of the intelligence services and arguably we haven't until now."
On Thursday, Deputy Prime Minister Mr Clegg said stories in the Guardian about GCHQ "would have been of immense interest to people who want harm".
There was however a legitimate debate to be had about the use of mass surveillance programmes, he added.
Earlier this year, the government's Intelligence and Security committee's powers to scrutinise the work of the security services were increased.
But a source close to Mr Clegg denied a suggestion made by Mr Cable on Today that the deputy prime minister was seeking a specific review of the system of political oversight of the intelligence services.
He said that in the coming months there would only be discussions within government about some of the issues thrown up the Snowden case.
He said the Guardian had a "sense of power of having these secrets and excitement... about these secrets has gone to their heads".
"They are blinding themselves about the consequence and also showing an extraordinary naivety and arrogance in implying that they are in a position to judge whether or not particular secrets which they publish are - are or not - likely to damage the national interest," said Mr Straw.
On Tuesday the director general of the security service MI5, Andrew Parker, warned in a speech the disclosure of the "reach and limits" of GCHQ's capabilities was a "gift" to terrorists.
Mr Parker dismissed suggestions that the agencies were trawling through people's private lives for anything that looked interesting as "utter nonsense".
Asked about Mr Parker's suggestion, Guardian editor Alan Rusbridger said: "They will always say that. You read histories of intelligence and you go back to the 1990s and the security people were saying the same."
Mr Snowden has been given temporary asylum in Russia. In the US, he faces charges of theft of government property, unauthorised communication of national defence information and wilful communication of classified intelligence.
Related Internet Links
The BBC is not responsible for the content of external sites.