Newspaper review: Papers focus on energy price rise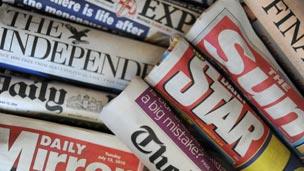 "Eat or heat" is the choice facing millions of households according to the Daily Express after SSE became the first of the big energy companies to announce an increase in bills.
The claim comes from pensioner groups who say the elderly will be the hardest hit as the weather turns colder.
The Daily Mirror's headline goes further, declaring that "fuel bills will kill". A fuel poverty adviser tells the paper he is "fearful" there will be an increase in deaths this winter.
Most of the papers agree that other energy companies will now follow suit. Fat cat firms are set to stick two fingers up at Britain, says the Sun.
The paper demands that the government increases competition in the energy market and slashes green taxes.
But the Times wants consumers to take on some responsibility for reducing bills - it suggests putting on a sweater and using less energy.
The chief executive of SSE tells the paper that bills would fall overnight if the government opted to pay for green energy subsidies through the tax system.
But the Times says David Cameron has been warned that reducing green levies on energy companies would land the government in court.
The Fuel Poverty Advisory Group says that an attempt to water down the scheme would be a derogation of the government's obligation to do all it reasonably can to eradicate fuel poverty.
Labour leader Ed Miliband uses the news of the price increase to repeat his pledge to freeze energy bills for 20 months after the election.
In an interview with the Financial Times, he accuses the energy companies of being guilty of "predatory behaviour" and he says the government is "frozen in inaction".
Writing in the Guardian, Margaret Atwood welcomes the news that the Nobel Prize for literature has been won by a fellow Canadian author, Alice Munro.
She says it is a thrilling honour for a major writer and will draw international attention, not only to women's writing and Canadian writing, but the often overlooked short story.
If you are worried that children are growing up more interested in iPads than fairy tales then you are not alone, says the Daily Mail.
The Queen is apparently concerned that children are more likely to play computer games or read e-books than settle down with a traditional story.
The Mail says the comments were made as author Joanne Harris was presented with her MBE - the paper notes that it is "highly unusual" for the Queen to openly express an opinion on such issues.
Related Internet Links
The BBC is not responsible for the content of external sites.