Firefighters to stage second strike in pensions row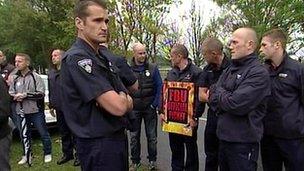 Firefighters in England and Wales are to stage a second strike on 19 October amid a row over pensions, the Fire Brigades Union (FBU) has said.
The five-hour strike by union members will take place from 18:30 until 23:30.
The government plans to make firefighters work up to 60 and argues that the pension offer is generous.
But FBU general secretary Matt Wrack says the late-50s is too old to be fighting fires and rescuing families and is not ruling out further strikes.
Firefighters in Scotland will not strike after they voted in a consultation that Scottish government proposals were sufficient to prevent a strike, the FBU says.
Mr Wrack said: "We had hoped our first strike was enough to show government that firefighters could not be more serious about protecting public safety and ensuring fair pensions.
"No firefighter wants to strike, and it's desperately disappointing that governments in Westminster and Cardiff continue to deny reality over pensions costs and the need for a pension scheme that reflects the job firefighters do.
"Firefighters simply cannot be expected to fight fires and rescue families in their late 50s and into their 60s.
"We hope this second strike will mean both governments will be willing to discuss the full range of concerns that firefighters and the general public have expressed.
"However, more strikes cannot be ruled out if that's what it takes to protect public and firefighter safety from these ludicrous attacks."
During the first strike on 25 September, 32,000 union members walked out for four hours, according to the FBU.
Contingency plans at the 46 fire services in England and three in Wales included using part-time and volunteer firefighters, calling in non-unionised fire crews and bringing in private contractors.
The armed forces had a back-up role and in the event of a major incident union members could have returned to work.
No major incidents were reported during the strike, which was the first national walkout for a decade.
Related Internet Links
The BBC is not responsible for the content of external sites.