Who are the British jihadists in Syria?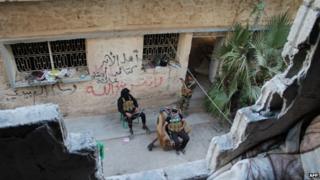 The home secretary and MI5 have warned about the terrorist threat from British residents fighting in Syria. But who are these young men who have gone to fight in another country's war - how did they get there, what are their long term goals and do they pose a threat to UK security?
MI5 says there could be as many as 200 British fighters in Syria. With other Europeans, they make up around 10% of the foreign opposition forces, with most coming from Saudi Arabia, Tunisia and Libya.
The BBC has learned there are a group of 20 young men from the UK who are fighting against forces allied to President Bashar al-Assad near Atma, on the Turkish border.
One of the men, who calls himself Abu Muhadjar, says he had a good upbringing: "I grew up in fairly nice area. I come from a decent family, close-knit family, well educated. Everyone in my family is a university graduate. I'd consider it a middle class family.
"My family do know where I am and what I'm doing. Just like any mother and father, of course they're going to be worried about their son. I'd be lying to say it's not dangerous here and no-one wants to bury their own children."
The BBC has questioned a number of jihadists on the front line through a Muslim journalist in Syria. They would not talk to us directly by phone or Skype because of concerns about their security and we have no independent means of verifying their identity.
Abu Muhadjar would not give much away about his background, but explained why he was there: "There's many reasons made me leave my life and come here. The first is religious reasons - due to the fact that it's upon every single Muslim to protect Muslim lands and blood of Muslims if it's been transgressed upon.
"Second is humanitarian reasons - alongside of my fighting I tend to do aid work as well."
Shiraz Maher of the Centre for the Study of Radicalisation at King's College London, says Syria has become a magnet for young Muslims across the world eager to take part in jihad - a holy war, or struggle to defend Islam.
He says: "At the moment Syria seems to dominate the global jihadist mind, it is the premier location in the world to go and fight jihad today."
Mr Maher says: "One of the interesting things we've seen is that other jihadist groups, such as al-Qaeda in the Islamic Maghreb and (al-Shabab) in Somalia have issued a communique saying, 'Listen, don't forget about us, we also need foreign fighters, don't all go to Syria.'"
He says intelligence sources have told him most British jihadists are in their 20s, university-educated and Muslims of British Pakistani origin.
The BBC has been told that up to 20 people from the Sudanese community and several Syrians from the UK have gone to fight in Syria.
What concerns British officials most is how many are fighting with jihadist groups linked to terrorism.
Richard Barrett, a former intelligence officer who has recently been working for the UN on counter terrorism, says it is likely to be the majority: "Many rebel groups are wary of foreign fighters because they think they're going to be out of control.
"Many foreign fighters are being attracted to the extremist wing and al-Qaeda people are encouraging them to come and join them."
With Turkey only a budget flight away, it is cheaper for jihadists to get there and cross to Syria to fight than it is to get to Afghanistan or Somalia.
While some have gone under their own steam, the BBC has also been told of organised networks to get young men there.
Salah al Bander, who runs the Sudanese Diaspora and Islamism Project, says extremists recruit these young men through prayer rooms attached to mosques and then arrange their travel.
He says: "These kids don't have the means to buy a plane ticket. There is a kind of railroad between British and Western cities and linking points in Jordan, Lebanon and Turkey to bring these individuals inside Syria to go and join specific organisations."
But Abu Muhadjar says the decision to go to Syria was his alone: "There's no recruitment process to come here. It's an individual decision that I took.
"Upon my arrival I found some like-minded brothers, I came across in the same manner. Their goals are the same so they're the ones that I was attracted towards the most and I joined them so we can fight together."
Home Secretary Theresa May has described Syria as a training ground for a new generation of British terrorists and the head of MI5 says thousands of Islamist extremists see the British public as a legitimate target for attacks.
But another British jihadist, who calls himself Abu Islam, says Britain has nothing to worry from him: "For me personally I was born and raised there, that's my home.
"If I wanted to do something in UK I wouldn't have come here. If I did want to do something in UK I would have already done it by now, but I'm here."
Abu Muhadjar also denies they will be a threat: "That's slightly surreal to go back to UK and start a jihad there. I do understand their concern but you cannot paint everyone with the same brush.
"As to the global jihad - I couldn't tell you if I'm going to be alive tomorrow let alone future plans."
In its annual report to Parliament, the Intelligence and Security Committee described the involvement of UK residents in Syria as posing a significant threat for years to come but chairman Sir Malcolm Rifkind says not everyone who returns will be radicalised.
He says: "There will be some who have gone purely because of strong feelings about Syria and may not feel the same extreme views in regard to other countries including the United Kingdom.
"But we must assume that from amongst the total, there will be some who seek to use the experience they have obtained in Syria for further acts of terrorism in this country. That must be a possibility."
Listen to File on 4, The Syrian Connection, on BBC Radio 4 at 20:00 BST on Tuesday 15 October. Or catch it later on the BBC iPlayer.