'Everyone knew' about Jimmy Savile, former officer says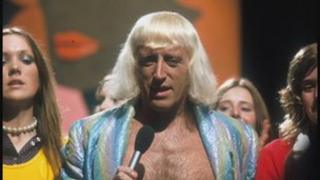 A former police officer has spoken about some of his colleagues' attitude to Jimmy Savile in the 1960s - saying that everyone in the force knew "Jimmy liked them young".
The ex-officer, who wants to remain anonymous, was with Leeds City Police in the 1960s.
He used to patrol areas of the city where Savile was well known.
The entertainer was in his 30s at the time and was a familiar sight in the areas of Roundhay and Headingley.
It was one incident in 1965 the former policeman remembers well.
Late one night, just before midnight, he noticed Jimmy Savile's Rolls Royce parked in a secluded spot on the edge of Roundhay Park.
"As I went past I saw the interior lights were on," he said. "I went past but stopped and went back - I thought someone had nicked it.
"He was sat in the driver's seat and was talking to a young lady in the passenger seat. She looked like Twiggy - I couldn't tell her age, perhaps 15 or 16.
"I said, 'What's the matter, Jimmy - what are you doing up here?'
"He said, 'Yeah, we're fine, aren't we?' And she smiled. Then he said, 'We're waiting for 12 o'clock, son.'
"Why?" I asked. 'Because it's her birthday tomorrow, she's 16.' And he winked at me.
"I asked the girl, 'Are you ok?'
"She smiled - there was no impression she was being forced to be there. I think she wanted me to get lost as well.
"Jimmy then said, 'Now get back on your bike before you lose your job.'"
The officer then went on his way. He said: "If there was any impression that she was 10 or 11 I wouldn't have gone anywhere. There was no doubt whatsoever that she knew what was going to happen.
"Savile gave me the impression he was justifying himself and knew what people suspected him of - he was waiting until it was legal. His attitude was, 'I'm not doing it now but in ten minutes there isn't a thing you can do about it.'"
Later on in the shift he mentioned the meeting to his sergeant, who said to him: "Was she upset?" When he replied, "No", he claims the senior officer added: "We know Jimmy likes them young, he's got friends in high places."
'Different attitudes'
The former officer said today that the attitudes of the time were "different" and accepts that such actions today would be unthinkable.
"Leeds City Police were absolutely not covering up Jimmy Savile as a paedophile," he said. "They turned a blind eye to 15-year-olds but never considered that as paedophilia.
"If he was caught with an 11-year-old that would have been a different matter. You can't blame Leeds City Police for what everyone in the country was doing. I'm not saying that's right, but it was the attitude at the time."
The officer later left the police force but believes that attitude of the police towards Savile lasted for years afterwards. The Leeds City force merged into the West Yorkshire Constabulary in 1974. He also believes that police may have informally talked to Savile about the age of his girlfriends in the 1960s.
"Nearly everybody knew that his girlfriends wouldn't be much over 17 - I think he knew he was being watched," the former officer said. "Perhaps he was warned beforehand that he was treading on dangerous ground."
He believes any new inquiry into West Yorkshire Police will not change anything.
Yesterday, the independent Police Complaints Commission announced an investigation into a former officer who called colleagues in Surrey on Savile's behalf in 2009, saying he knew the former DJ personally and passing on a phone number.
A recent West Yorkshire Police inquiry concluded that friendships Savile had with officers had not protected him from arrest or prosecution. But a recent review of that inquiry found it did not have the look or feel of an independent report.
Today West Yorkshire Police appealed for the police officer we spoke to today to contact them. The force released a statement that said: "West Yorkshire Police are appealing for a man who spoke to the media yesterday in relation to the Jimmy Savile case to get in touch."
But the former officer, who spoke on the Jeremy Vine Show yesterday, is adamant there was no special protection for Savile.
"There was no conspiracy, it wasn't covered up," he said. "They all knew Jimmy Savile liked them young - and we're not talking 12 - we're talking 15. It was the culture."
Jimmy Savile, a former TV presenter and radio DJ who died in 2011 aged 84, is believed to have abused hundreds of victims during his career.