Newspaper review: British Gas in firing line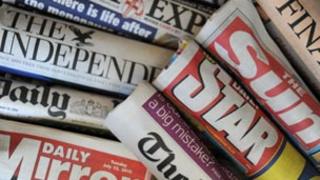 Friday's papers take aim at British Gas over the energy company's 9% hike in prices.
The Daily Mirror sets the tone with a picture of boss Chris Weston alongside the headline: "I'm putting your gas bill up by 10% - now where's my two million pound bonus?"
Sun readers should leave what the paper calls "Brutish Gas" and switch to other firms.
It's launched a campaign against what it calls "hated" green taxes which it blames for adding to energy bills.
Vitriolic tweets
"Heat or eat", the Daily Express warns as it predicts soaring bills will lead to a "devastating increase" in winder deaths.
The Daily Mail reports on a warning from the Royal Academy of Engineering that the lights could go out as early as next year.
And the Guardian highlights a public relations disaster for British Gas after it tried to quell criticism on social media.
It says almost 16,000 mostly vitriolic tweets "rained down" on the company in just a few hours.
The Times assesses George Osborne's announcement that the Chinese can take a stake in the UK's nuclear power plans. It could pose important security issues, the paper says.
Commons chivalry
In his first interview since being sacked last week, Lib Dem former minister Jeremy Browne tells the Times he is puzzled as to why he lost his job.
But it is the plight of a Lib Dem still with a ministerial job who was forced to stand at Prime Minister's Questions on Wednesday which reaches a number of Friday's papers.
The Daily Mail says the Commons is obviously no "hotbed of chivalry" as none of the dozens of MPs sitting nearby saw fit to offer pregnant Jo Swinson a seat.
A Daily Mirror editorial argues giving up a seat for a pregnant lady isn't sexism but simple good manners.
Millions of people could be spared the agony of crippling back pain by seeking early treatment, according to the front page of the Daily Express.
Facebook fears
Several papers report criticism of a school in Leeds which apparently allowed pupils as young as eleven to smoke in the playground.
The Daily Telegraph says that cigarettes have been confiscated as the children arrive each day, but handed back at break times.
There's support for the England manager, Roy Hodgson, after his "feed the monkey" comment during a team talk. The Telegraph calls him "one of the most civilised people in football", while the Independent asks: "Why all the fuss?"
Meanwhile children's groups and internet safety experts have rounded on Facebook, according to the Times, after it announced plans which will allow millions of teenage users to open up their profiles to strangers.
And finally, a number of papers report findings from scientists who say that from the age of 18 months, children can tell when we are faking our emotions.
"Smile and the world smiles with you, cry and you cry alone," says the Times. "However, smile when you feel like crying, and your toddler is going to be pretty puzzled."