Ecstasy lookalikes containing PMA are killing users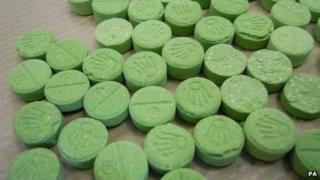 There is growing concern about highly toxic amphetamines being sold as ecstasy to young people all over the UK.
When Nick Bonnie and his friends went for a night out in Manchester a month ago, they never thought it would end in tragedy. They had travelled from Bristol to go to the city's Warehouse Project club night.
Drugs are a major concern for organisers of the events. They employ large numbers of security staff, sniffer dogs and pay for additional policing, while paramedics are on standby.
But despite these precautions, no one was able to save Mr Bonnie, who became violently ill and later died after taking what he believed to be ecstasy.
Another 15 people who attended the event ended up in Manchester Royal Infirmary with symptoms associated with designer drugs.
Overdose risk
Ch Supt Mark Roberts, of Greater Manchester Police, said those taken ill had bought their drugs from a variety of different places including London and Greater Manchester.
Experts say the market in illicit drugs is more diverse than ever but increasingly young people have no idea what they are buying.
In order to fully grasp the scale of the problem, Mr Roberts said he needed more information from hospitals.
"Is this a typical Saturday morning, Sunday morning in Manchester? Are this number of people routinely given treatment for the effects of drugs?" he said.
"I need to know if people have been taken ill so we can take the appropriate steps to try and stop it happening. And I've got to say it's been quite difficult to actually gain an accurate picture of that.
"Some hospitals are helpful, others will say, 'We need a data protection form.' I find it quite frustrating."
But confidentiality is an important principle for the health service, as NHS England told File on 4 in a statement:
"The Data Protection Act exists to protect patient confidentiality, human rights and civil liberties.
"The police have no automatic right of access to confidential health records… In disclosing confidential information, there must be explicit patient consent or a robust public interest justification."
The exact cause of Mr Bonnie's death is yet to be determined as toxicology tests are not complete.
'Worst day'
But one compound of concern and the subject of an alert by the government's chief medical officer earlier this year is para-methoxyamphetamine (PMA).
PMA is chemically similar to MDMA - ecstasy - and it is often sold as such. The problem is that it is much more toxic.
In 2011, PMA was linked to one death. This year there have been 23 deaths linked to the drug, research by BBC Radio 4's File on 4 programme found.
Prof David Nutt, a former government adviser, says a standard dose of PMA is between five and 10 times stronger than ecstasy.
And he says the risks of overdose are high because the drug takes longer to have an effect.
He said: "If you're used to having a sort of hit from ecstasy within 20 minutes or half an hour and you don't get this from PMA, then you think, 'Well obviously it was a bum lot - I'd better take some more.' "
Last year Gary Bass, 23, from Heswall, Merseyside, took tablets containing both MDMA and PMA. The drug was sold to him as ecstasy.
A friend of Mr Bass, who does not wish to be identified, tried to revive him on the night he died.
"The ambulance crew came in. They'd hooked him up to this machine and then it just started printing off a flat line, basically, and they said that he's dead already," he said.
"It was horrible. It felt like crashing into a brick wall. It was the worst day of my life."
Harry Shapiro, of the drugs agency DrugScope, says PMA has become increasingly prevalent after a crackdown on the chemicals needed to make ecstasy.
Norman Baker, the Home Office Minister for Crime Prevention, told File on 4 he is concerned that the number of deaths from PMA will "probably go up this year".
He said: "It certainly went up last year. It's a matter which we're spending some time on identifying where we can take action to eradicate this from the supply chain.
"We take steps through the NCA [National Crime Agency] intelligence hub to make sure we keep on top of the appearance of new drugs, and part of the problem, of course, is that people are creating new substances all the time chemically, so there are significant resources being deployed in this area."
Listen to File on 4 on BBC Radio 4 at 20:00 GMT on Tuesday 29 October.