'Plebgate' poll suggests dip in police trust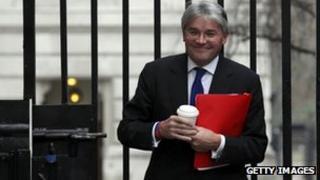 One in four people say they are "less likely" to trust police in the wake of "Plebgate", a poll for the BBC found.
Despite accusations officers lied to undermine then cabinet minister Andrew Mitchell, the ComRes survey of 1,000 people found 82% are still likely to believe what the police say.
Mr Mitchell has denied calling police "plebs" outside Downing Street.
Officers from the police union in his constituency have apologised for "poor judgement" over the affair.
The apology came after a transcript emerged of a meeting they had attended with Mr Mitchell, then government chief whip.
The Independent Police Complaints Commission has said the officers misrepresented him at a press conference after the meeting, which the minister had called to defuse the row with police.
The BBC's poll asked how the affair had affected people's "opinion" of the police.
While 67% said it had made "no difference", 26% responded that it had made them "slightly less" or "much less" likely to trust the police.
Only 5% said the affair had increased their trust in the police.
The poll suggests public trust overall remains high, with 82% saying they were "very likely" or "fairly likely" to believe officers speaking either on television or on the streets while on duty.
But it found that 40% agreed with the statement: "Generally, the police seem to try to cover up wrongdoing by those in its ranks."
And in Mr Mitchell's West Midlands region as well as in Scotland and among skilled manual workers, overall trust was fractionally lower, with one in five saying they were unlikely to believe what officers say.
'Baying for blood'
The three officers accused by the IPCC of having tried to discredit Mr Mitchell are due to appear before MPs on the influential Home Affairs Select Committee on Wednesday.
The inspector who investigated the comments made by the officers after the meeting has also been called to appear.
But the Police and Crime Commissioner for one of the forces concerned accused friends of the ex-minister of "baying for blood" over the affair.
Warwickshire PCC Ron Ball said Mr Mitchell and his supporters should have accepted the Police Federation's apology.
Conservative backbencher David Davis has said the officers should "face the consequences" of what he described as their "deliberate misconduct".