Police 'cameras on cops' plan for all patrol officers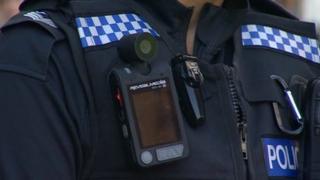 Police in England and Wales are to hold large-scale trials of body-worn video cameras for all officers on patrol.
The move by the College of Policing follows concern that the "plebgate" scandal has dented public confidence.
Cameras are already used by some forces. Hampshire have issued the jacket-mounted kit to 450 officers. They are now standard issue for uniformed police on the Isle of Wight.
The college has been studying the results from an American pilot study.
Police officers in Rialto, California, were issued with video cameras. Last month they reported an 88% reduction in complaints filed against officers and a 60% fall in incidents where officers used force.
"As a consequence of these studies the College of Policing is looking at piloting the use of body-worn video," said Chief Constable Alex Marshall, chief executive of the college.
"We see these trials as being beneficial in reducing police use of force and public complaints against police."
Privacy concerns
Body-worn video was first used in Britain by Devon and Cornwall police in 2006.
Strathclyde and Grampian police have also piloted the equipment in Scotland, and an evaluation in 2011 concluded its use may have reduced crime and assaults on officers as well as reassured the public.
Earlier this year, Hampshire police made video cameras part of standard-issue for all 173 uniformed officers on the Isle of Wight and response teams on the mainland.
"Body-worn video is our independent witness," said Inspector Steve Goodier who leads the Isle of Wight team.
"The recording means it is undeniable what went on, so we can actually answer the question that needs to be answered if someone disputes a conversation or an officer's use of force."
Officers wearing the cameras are subject to strict controls on its use and subsequent storage. Pictures are deleted after 30 days unless they are required for evidential reasons.
Nevertheless, the equipment is likely to raise privacy concerns.
In the United States, the use of cameras by customs and border protection officers is subject to a comprehensive policy framework that balances "effective oversight and protecting civil liberties".
Recently, a district judge in New York ordered the use of body-worn cameras by police officers to "encourage lawful and respectful interactions between police and suspects".