Crown post office workers to strike over jobs and pay row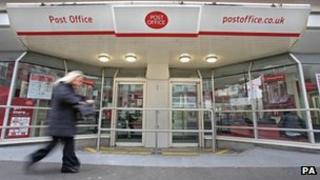 Staff in hundreds of Crown post offices will strike on 4 November in a row over jobs and pay, the Communication Workers Union (CWU) has said.
They will join Royal Mail workers, who will strike over privatisation on the same day.
The CWU said Post Office management was "out of touch with its staff and customers over plans to close Crown offices and cut staff".
The Post Office said it was "disappointed" by the decision.
The CWU said the dispute affected up to 4,000 staff working in 372 post offices and was over a pay freeze, plans to close or franchise 75 offices and the loss of up to 1,500 jobs.
The long-running row centres on the Post Office's plan to franchise or close more than 70 Crown sites, which are the larger branches usually found on high streets.
Staff working in admin and supply chain functions, such as Post Office cash vans, will join next week's strike for the first time.
Dave Ward, CWU deputy general secretary, said the company was "unfairly imposing pay freezes on both Crown staff and now admin and supply chain workers while senior managers have enjoyed significant bonus payments.
"These double standards cannot continue and we hope to make progress in talks this week."
'Minimise disruption'
The Post Office said the union was calling for above-inflation pay rises at a time the organisation was working to reverse a loss of £116m.
A spokeswoman said: "CWU have refused their members a fair and affordable pay offer of cash payments totalling up to £3,400 by April 2015. We would also like to clarify, the Post Office is investing in our Crown branches and our plans to franchise 70 locations will not result in closures or any compulsory redundancies.
"We will work hard to minimise any disruption during the strike but the action will only affect Crown branches which make up 3% of our branches - the majority of which remained open during previous strikes. The remaining 11,500 Post Offices will operate as normal."
Talks to discuss the future of the Crown office network are scheduled for Tuesday and Wednesday.
CWU members in Crown offices voted 88% in favour of striking on a 75% turnout in March.
Members in administration and supply chain voted 76% in favour of strike action last Thursday. The CWU could not confirm the voter turnout.
The union said Crown post office staff had not had a pay rise since April 2011, while all other Post Office staff represented by the CWU had two pay rises in that time.
The union said a Freedom of Information request revealed that Post Office managers had shared a bonus of £15.4m in 2012-13.