Newspaper review: Baby P payout prompts debate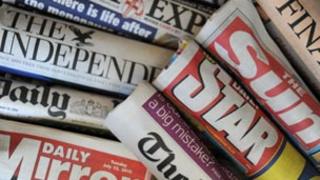 Many of the papers comment on the compensation given to the former head of Harringey children's services, Sharon Shoesmith, for her unfair dismissal following the death of Baby Peter Connolly six years ago.
The Sun calls the pay-off - thought to be about £600,000 - an "obscene reward for failure".
"Appalling" is the headline in the Daily Star.
The Daily Mail describes it as "monstrous" and "offensive".
But Ms Shoesmith was not wicked, argues Jenni Russell writing in the Times, and she says there is no satisfactory evidence she was incompetent.
Worse, she says, Ms Shoesmith's vilification has put people off working in child protection, endangering vulnerable children.
Ripped off?
Government plans to cap the fees pension funds can charge would be a "full frontal assault" on the industry, aimed at preventing workers from being "fleeced" out of hundreds of thousands of pounds, according to the lead in the Daily Telegraph.
The Daily Express says when people are automatically enrolled into pension schemes the government has a responsibility to ensure they are not ripped off.
The Independent uses a dramatic photograph across its centre pages of a surfer dwarfed by the enormous waves off Praia do Norte in Portugal created by the St Jude's storm.
The Guardian uses a diagram of the wave next to a London bus to show the height of the wall of water ridden by the British surfer Andrew Cotton and the Brazilian Carlos Burle.
It is thought that one or both of them could have broken the record for the tallest wave ever surfed, which stood at 78ft (24m).
Jam and Jerusalem
A photograph of hundreds of women queuing to join a new branch of the Women's Institute in Bromley Heath, Bristol, is in several papers.
"Jam packed" is how the Daily Mail describes the event, which attracted more than 350 people after it was advertised on the social networking site Facebook.
The Times reports a "fresh zest" for the WI which, it says, is best known for "jam and Jerusalem".
The paper says more than 100 people had to be turned away as they could not fit in the church hall.
The Daily Mirror puts the new-found popularity of the organisation down to the television show the Great British Bake Off, which it says has helped the WI shed its "crusty" image.