Game of Thrones: Jack Gleeson visits Haitian charity projects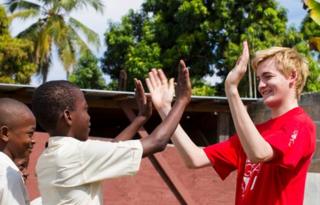 It's a testament to Jack Gleeson's acting ability that most Game of Thrones fans may have to look twice at this picture.
The young Irish actor is usually seen playing the tyrannical King Joffrey Baratheon - a man so evil, his own mother isn't sure she loves him.
The role has propelled Jack to international acclaim, but unlike his bullish on-screen counterpart he is using his good fortune to help others.
Earlier this week he travelled to the Haitian capital of Port au Prince to see the humanitarian work being carried out there by the charity Goal.
It's almost four years since a 7.0 magnitude earthquake struck the country, displacing around 1.5m people.
Jack described his trip as a "tremendous honour" and insisted it wasn't about distancing himself from the barbarous monarch he portrays on our TV screens.
He willingly admits that he does not care what people think.
"That's nothing to do with it really," he told the BBC.
"I usually like to keep a low profile but that's a personal thing. I think that increases the audience's reaction to the show. They see me purely as the character."
Villain
The HBO series has become a cult hit since its premier in 2011. Based on the novel A Song of Ice and Fire, it interweaves the stories of several noble houses, who are engaged in a raging civil war.
Although the show features plenty of egregious villains, viewers would unanimously agree King Joffrey is in a league of his own.
"I do get a bit of a shock when I see some of the scripts," said Jack.
"But most of the time I read a scene and I rub my hands with glee. I get to work outside the standard back and forth dialogue. It's a very theatrical role."
Much of the show is filmed on location in Northern Ireland and at the Titanic Studios in Belfast. Jack describes the city as "a home away from home".
"I think the rest of the cast really like it too. Some of them took an exception to the weather, but in terms of Belfast people and Northern Irish people they're so welcoming," he said.
"You don't really get stopped or asked for a picture. Perhaps they're too modest. They kind of leave us to it."
Filming for the fourth season of the series will come to an end in the coming weeks, with the first episode due to air in March 2014.
There are no impending spoilers ahead. Jack refused to divulge what happens next.
"I can't really say too much. But the characters are getting more and more desperate and more intense. There are also some new characters and some will be leaving.
"I actually read the first book, along with the online summaries. So I know the fate of my character.
"Some of the cast haven't read it, like Lena Headey. I know she really enjoys watching the show so every time she gets a script it's the unknown."
'Surreal'
Although his day job is a time-consuming one, Jack manages to pursue several other projects and is a full-time student at Trinity College in Dublin.
His trip to Haiti presented the 21-year-old with an altogether different challenge and got him out of his "comfort zone".
He visited several projects including schools and housing camps and spent time with people who lost loved ones and livelihoods in the disaster. It's a far cry from the glamour of the television set.
"It was very surreal," said Jack, as he described the moment he landed in Port au Prince.
"It's a profound juxtaposition to find yourself in. Not just from my fictional character, but from my real life in Dublin.
"When it's presented in the media it's very easy to abstract yourself and fictionalise the event.
"Haiti was a profoundly impoverished country even before the earthquake, so to see it get back on its feet is uplifting.
"They're so self-motivated here."
Despite landing a lead role in a hit TV series and embarking on charity missions across the world, Jack is unsure whether life in the spotlight is entirely right for him.
He has spoken of his desire to step away from acting in favour of a career in academia something he feels "really guilty about".
"Everyone dreams of working on a successful show and it is a great opportunity.
"I haven't decided yet. Acting isn't my priority at the moment. I really like being a student.
"But I'm reticent to speak in definites. I'm a young bright-eyed man, so I may change my mind."
Game of Thrones fans will certainly hope so.