Councils ready to protect roads in winter weather, says LGA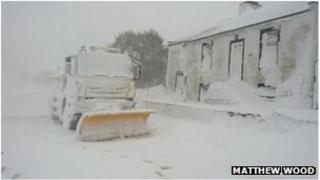 Many local authorities in England and Wales have stockpiled more salt this year compared with last winter, according to a survey.
Around 95% of councils are either maintaining or increasing stock levels this winter, research by the Local Government Association (LGA) suggested.
Last year, a total of 1.3m tonnes of salt was stockpiled.
Half of councils also plan to share resources with neighbouring councils, the LGA said.
Councils are also adopting new methods of tackling winter weather with 82% using GPS trackers on their gritters this year while others are using liquid de-icers, brine and sugar-coated salt which is less likely to be blown off roads by wind or traffic.
The LGA's economy and transport board chairman Peter Box said: "Last month's St Jude storm proved that councils continue to rise to the challenge presented by the adverse weather this country can face and being prepared for winter remains a priority for councils.
"Despite tough financial times, councils are investing in new gritting equipment, exploring innovative techniques to tackle snow and frost and working alongside neighbouring councils and community groups."
Heavy snow caused power outages and widespread disruption to transportation and schools earlier this year across much of the UK.