England 'faces flood risk' amid wet autumn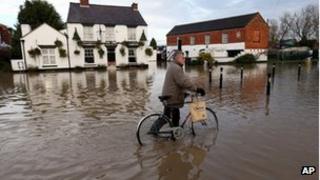 People in England should prepare for an increased risk of flooding after a wet and windy few weeks, the Environment Agency has warned.
A wet October and rainfall average for the time of year has heightened the chance of floods. The west of England could be worst hit, the agency said.
It advised signing up for flood warnings and making "food plans".
Forecasters also warned of a "wintry spell" with some possible snow in the north and south of the UK next week.
Homes in coastal areas in Norfolk and Suffolk are being warned of a low risk of flooding on Thursday night, due to a combination of strong winds and large waves.
The Environment Agency said there was a "medium likelihood of minor coastal flooding impacts such as isolated instances of spray and wave overtopping".
Wind-blown leaves and debris blocking rivers could worsen the situation.
In its winter flood outlook report, the agency is urging people to be prepared and to sign up to their free flood warning service.
David Rooke, director of flood and coastal risk management at the Environment Agency, said the best protection was to be prepared by "checking the flood risk on the Environment Agency's website, signing up to free flood warnings and making a personal food plan".
Snow
BBC Weather forecaster Laura Gilchrist said: "We've had quite a mild autumn so far and it's also been quite wet.
"If we continue in the same vein then flooding would likely be an issue. However, as we go into next week it does look like it's turning significantly colder.
"There is the potential for wintry showers turning increasingly to snow in the north and south."
But she said it was "unlikely" for November to be as wet as October.
"It doesn't look like we're going to be returning to the kind of weather that leads to increased water levels anytime soon," she added.
In autumn last year, communities across the UK were affected by some of the worst floods in generations.
That September, almost 600 homes and businesses were flooded - the worst hit areas were Wales, Yorkshire and north-east England.
Two months later, many more homes, mainly in south-west England, were flooded, and two people died in the storms.
In Kempsey, in Worcestershire, a new £1.5 million flood defence project broke down after an electrical problem.