Guantanamo's last UK inmate Shaker Aamer speaks from cell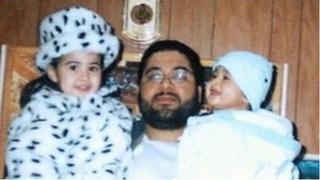 The last British resident being held in Guantanamo Bay has been broadcast speaking from his prison cell for the first time.
Shaker Aamer, who has been in the military prison since 2002, spoke to US news channel CBS by shouting from his cell, asking reporters to "tell the world the truth".
His lawyer said he was being held even though he had been cleared for release.
The UK Foreign Office said Mr Aamer's case remained "a high priority".
As part of a recording made by the CBS 60 Minutes programme, Mr Aamer said: "Tell the world the truth... please, we are tired. Either you leave us to die in peace - or either tell the world the truth. Open up the place. Let the world come and visit. Let the world hear what's happening.
"Please colonel, act with us like a human being, not like slaves."
He added: "You cannot walk even half a metre without being chained. Is that a human being? That's the treatment of an animal... It is very sad what is happening in this place."
'Nothing to hide'
The Saudi national, who has been held for 11 years and is one of 164 inmates, has not been charged with any offence and has been cleared for release from the prison in Cuba.
He has permission to live in the UK indefinitely because his wife is a British national. They have four children and live in London.
Mr Aamer's case was raised by Prime Minister David Cameron in talks with US President Barack Obama at the G8 summit in June.
Clive Stafford-Smith, his lawyer and director of the justice charity Reprieve, told CBS that Mr Aamer had agreed to whatever conditions the British government wanted to place under him if he was released, "because he has nothing to hide".
Asked why Mr Aamer was still being held, he said: "I think it is a fascinating question and I would love a little more transparency.
"No one will say why they won't let him go."
Mr Stafford-Smith called on the US president to "fulfil his promise" and close the prison, adding: "CBS's show gives a very rare and very shocking glimpse inside Guantanamo Bay. Everyone in the prison - the guards and the men - is suffering horribly, day after day."
'Matter of urgency'
Mr Aamer was detained in Kabul, Afghanistan in 2001.
US authorities allege he had led a unit of Taliban fighters and had met former al-Qaeda leader, Osama Bin Laden.
But Mr Aamer has maintained he was in Afghanistan with his family doing charity work.
A Foreign Office spokesman said: "Mr Aamer's case remains a high priority for the UK government and we continue to make clear to the US that we want him released and returned to the UK as a matter of urgency."
He said the case had been raised with both Mr Obama and Vice-President Joe Biden, adding: "We are confident the US government understands the seriousness of the UK's request for Mr Aamer's release.
"We continue to monitor Mr Aamer's welfare through engagement with the US authorities."
At least 14 British nationals and residents have been held at Guantanamo Bay at one time, with Binyam Mohamed's release in 2009 leaving only Mr Aamer there.