European database of unidentified bodies urged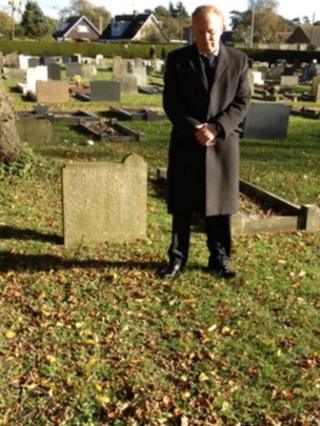 A Europe-wide database of unidentified bodies should be established, the UK Missing Persons Bureau says.
Joe Apps, who heads up the bureau, told BBC News it would help families who were searching for missing loved ones.
A year ago, the bureau launched a website containing images and distinguishing features of about 500 unidentified bodies found across the UK - a third of the total.
The bodies of four missing people have been identified as a result.
One of the matches followed a call from a man who thought an image on the website was that of his brother, who was last seen in 1994.
Fingerprints proved it was.
But Mr Apps said that, with so many people moving to and from the UK, a wider geographical pool of unidentified remains was needed.
Headless body
At present, the bureau - which is part of the new National Crime Agency - has records of 1,500 unidentified bodies or body parts from across Britain.
Five new cases are added to the list each month.
"What I'd like to see happen is that families across Europe could go to a single point - a single resource, a single website perhaps - to review all the bodies that are being found across Europe," Mr Apps said.
He estimated the database could carry details of about 7,500 unidentified remains.
"Bearing in mind modern migration patterns and work patterns, it would make it much easier for families to see if they can recognise anybody."
Mr Apps, who served in the police for 33 years before joining the bureau, said he had discussed the plans with agencies including Interpol.
"I believe, and my colleagues believe, it's a good idea - we just need to wait to see how we can make it come true," he added.
One of the cases likely to feature on such a database is that of a woman discovered near Swaffham, Norfolk, in 1974.
Her headless body was found bound and concealed under a dust sheet on heathland.
Police believe the woman was white, aged between 23 and 35, and possibly from central, eastern or northern Europe.
Five years ago, the woman's remains were exhumed for DNA tests to be carried out.
Since then detectives have been working through a list of 558 women reported missing at the time of her murder to see if there is a match.
'Fantastic idea'
Det Insp Andy Guy, who is leading the investigation to identify the victim, said: "She deserves closure and her family deserves closure."
He said a European database was "a fantastic idea".
He pointed out that a number of people who disappeared in coastal areas of Britain were washed out to sea and ended up abroad, so widening the database could make it easier to identify their remains.
He is part of a joint Norfolk and Suffolk police team dedicated to resolving cases of missing persons and unidentified bodies.
Mr Apps said only six other police forces across Britain had set up specialist units for identifying bodies - Police Scotland, British Transport Police, Thames Valley, Sussex, North Yorkshire and North Wales - and he was trying to persuade more to do so.