Court battle over burial of Richard III adjourned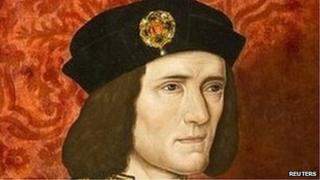 The legal battle over where the remains of Richard III should be buried has been adjourned at the High Court.
A judicial review will decide whether the procedure that led to his bones being excavated in Leicester and the decision to reinter them at the city's cathedral, was conducted correctly.
The court agreed to allow Leicester City Council to make representations as a party to the judicial review.
The council said it was prepared to consult over the reburial.
York v Leicester
The court said this could affect the timetabling of the full judicial review hearing.
The Plantagenet Alliance wants him buried in York Minster claiming those were Richard's wishes.
It is challenging the Justice Secretary's decision not to consult further before granting a licence to the University of Leicester to excavate the remains.
When the bones, discovered under a car park in the city, were confirmed as Richard III's the decision was taken for him to be reinterred in Leicester.
A High Court judge gave the Alliance permission to bring judicial review proceedings against the Justice Secretary and the university.
But that process has now be adjourned so that the city council can play a role in the decision over what happens to the remains.
Lady Justice Hallett, sitting with Mr Justice Ouseley and Mr Justice Haddon-Cave, said: "We are satisfied there is clearly an issue to be determined as to whether or not Leicester City Council has a role to play as a decision maker."
Gerard Clarke, counsel for the Plantagenet Alliance, welcomed the council's offer of further out-of-court consultation, saying: "There may be the possibility still of resolving this case without the further intervention of the court. We do not know."
Lady Justice Hallett said the court would be "happy" if it was settled, but left open the possibility of a further hearing in the new year.
The skeletal remains found beneath a car park in Leicester were confirmed as the king's after DNA from the bones was found to match that of a distant relative.
Richard, who reigned from 1483, was killed in the final battle of the Wars of the Roses at Bosworth field in Leicestershire in 1485.