Network Rail failings 'cause delays', regulators warn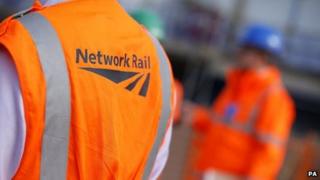 Network Rail failings are causing passengers to suffer increased delays, regulators have warned.
The operator has underspent on maintenance, deferred plans to renew infrastructure and allowed engineering work to over-run, the Office of Rail Regulation (ORR) said.
It blamed Network Rail (NR) - which is responsible for UK railways - for more than half of all delays.
It warned NR faces fines "in excess of £80m" if punctuality does not improve.
'Significantly underspent'
Earlier this month, Network Rail revealed that its net debt had risen to more than £30.6 billion, and admitted that performance had "fallen behind" as it struggled to get "more and more out of an ever-overloaded network".
Announcing its half-year results for April to September 2013, the authority said net debt had increased from £30.36 billion at the end of the 2012/2013 financial year, to more than £30.61 billion.
It said it was investing "record amounts" in railways - £2.74 billion, or £15m per day - 33% up on the same period last year, and 53% higher than four years ago.
But the ORR said that Network Rail had "significantly underspent" allocated funds.
"The company's own regulatory accounts for the period 2009/12 show that it underspent nearly £1.2 billion meant for maintenance and renewal of its assets," it said.
The ORR added that it recognised the "challenges" of managing traffic growth and timetabling on a congested network - as well as constraints on the access needed to work on the track - but urged the operator to make "good use of the funds provided".
It said that between April and October this year, there were around 16,000 infrastructure incidents across the network - an increase of 5% on the same period in 2012.
The incidents occurred despite a period of milder weather than the year before, causing almost 1.7 million minutes of delays.
The ORR said that asset failures - such as track faults, telecoms failures and cable faults - were "also on an increasing trend".
It added that some of the increase in delays were down to the deferral of works for parts of the rail network, including tracks, level crossings and electrification.
But it did say that Network Rail had made progress in reducing delays associated with civil engineering assets - such as bridges.
'Top priority'
ORR's railway planning and performance director, Alan Price, said he wanted Network Rail to move from a "find and fix" approach to a "predict and prevent" culture.
"Safety has to be Network Rail's top priority," he said. "Beyond that, its focus should be on delivering improved performance and increased capacity on the railways."
It has set new regulatory targets from 2014 for Network Rail's asset management, focusing on how it manages, maintains and renews the rail network.
Network Rail said that investment had reduced infrastructure failures by more than 20% since 2009, but blamed a lack of "capacity" for continuing delays to services.
"Today's railway is carrying more people, on more trains, than at any time since the 1920s with passenger numbers up 50% on a decade ago and growing," a spokesperson said.
"Train performance, at more than 90%, is at historically high levels with more people than ever before arriving on time on a million more trains per year.
"The real issue here is capacity and a largely Victorian infrastructure being pushed to its limits."