UK storm and tidal surge: East coast towns begin clean up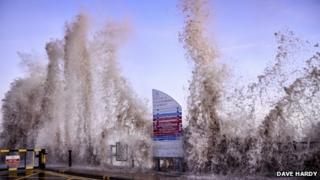 A clean up operation is under way on the east coast of England after widespread flooding following the worst tidal surge for 60 years.
The surge led to thousands abandoning their homes, although officials hailed improved flood defences.
Seven cliff-top homes collapsed in Hemsby, Norfolk, where a lifeboat station was also washed into the sea.
The Environment Agency has more than 15 flood warnings in place in England but the situation is improving.
Meanwhile, two people who were killed in the storm have been named by police.
Lorry driver Robert Dellow, 54, from Lowestoft, in Suffolk, died after his vehicle overturned in West Lothian and 83-year-old John Arthur White was struck by a falling tree in Retford, Nottinghamshire.
Flood waters have receded in many areas - and thousands of people have begun returning to their homes - but the authorities are warning that high tides could cause further damage.
Environment Secretary Mr Paterson, who earlier chaired a meeting of the government's Cobra committee to discuss the floods, said the situation was "not over".
He urged people to pay close attention to the advice from the Environment Agency (EA) and follow instructions from the police and other emergency services.
Around 1,800 homes were evacuated earlier on Friday evening in the village of Wyberton near Boston, Lincolnshire, because of fears of flooding following damage to defences.
However, Lincolnshire Police said just after 21:00 BST that high tide had passed without incident.
Seals 'missing'
Elsewhere in Norfolk - and some parts of Lincolnshire - people are beginning to return to their homes. About 1,000 properties were flooded there in total.
But the EA said 800,000 homes in England had been protected by flood defences and better forecasting had given people "vital time" to prepare.
It described the tidal surge as "the most serious" for more than 60 years but said there was "a vastly improving picture" as flood waters receded in many affected areas.
The EA said sea levels earlier peaked at 5.8m (19ft) in Hull - the highest seen by the East Yorkshire city since 1953 - and 4.7m (15ft) in Dover, Kent, the highest recorded there in more than 100 years.
It tweeted to say its "thoughts were with all those who had been flooded", and urged those affected to visit its page on how to get help.
In other developments: