Rebekah Brooks and Piers Morgan 'exchanged banter about hacking phones'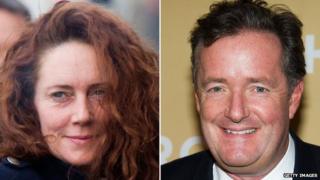 Rebekah Brooks and Piers Morgan exchanged banter at a dinner party in January 2003 about hacking each other's messages, the Old Bailey has heard.
Former solicitor Ambi Sitham said the "pointed" exchanges between the two then-newspaper editors took place at a steak restaurant in south London.
The Mirror editor told Mrs Brooks he knew what her front page was "because I've been listening to your messages".
Mrs Brooks, 45, denies conspiracy to hack phones.
Mrs Brooks, of Churchill, Oxfordshire, also denies conspiracy to commit misconduct and perverting the course of justice.
She left the editorship of the News of the World - where she was succeeded by Andy Coulson - to take over at the Sun in January 2003.
Front covers
Ms Sitham, speaking to court on Wednesday by videolink from the US, said there had been 18 to 20 people at the restaurant to celebrate the birthday of Mr Coulson, who is also a defendant in the trial.
She was at the dinner with her then-boyfriend, who was a friend of Mr Coulson.
Ms Sitham said Mr Morgan and Mrs Brooks were both "busy" on their mobile phones.
"At the time they were both editors of quite big national tabloid newspapers and they were both very busy trying to finish off the last details of their front covers, or splashes, for their newspapers," she said.
Ms Sitham told the court Mr Morgan had said to Mrs Brooks: "I already know what your cover is because I've been listening to your messages."
The witness said Mrs Brooks replied: "Been hacking into my phone again have you Piers?"
Mr Morgan then said "Well, you've been looking at my emails", according to Ms Sitham.
'Intimate gathering'
The former solicitor also said that, when she offered her number to Mrs Brooks later in the evening, Mr Morgan turned to her and said: "Careful, she'll tap your phone."
Ms Sitham described the dinner as "a very relaxed, intimate gathering" with "the most powerful people in the media industry in the UK".
Film 2013 and Strictly Come Dancing presenter Claudia Winkleman was among the guests, she said.
Clare Sibson, representing Mrs Brooks, suggested in cross-examination that the dinner had actually taken place in 2004 - just before publication of the Hutton report into the death of weapons expert David Kelly.
She said any pointed conversation at the dinner was about the Sun obtaining a leaked copy of the report and Mr Morgan's annoyance that the Daily Mirror did not have one.
"I wouldn't be able to answer that, but I think I would remember that," Ms Sitham replied.
The court heard earlier that, in August 2005, the now-defunct News of the World had found out that Prince Harry's then-girlfriend Chelsy Davy was "blitzing" him with calls and text messages when he was training at Sandhurst military college.
News of the World royal editor Clive Goodman emailed editor Mr Coulson in August 2005 and wrote that the prince could use his phone only after training at 22:00.
"He's not allowed to use his mobile at Sandhurst until he's off duty but she's blitzing him with dozens of calls and texts when he should be concentrating on his training," Mr Goodman wrote.
He said that, in just over one month, there had been 60 calls from Ms Davy to Prince Harry's mobile.
Mr Goodman, 56, from Addlestone, Surrey, and Mr Coulson, 45, of Charing, Kent, deny two allegations that they conspired together, and with other unknown people, to commit misconduct in public office.
Mr Coulson also denies phone hacking.
The case continues.