'Vishing' and courier scam complaints increase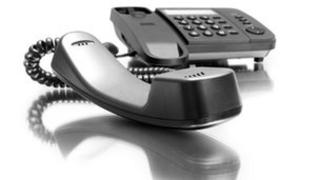 Banks are failing to refund some victims of a phone scam that involves people being duped into transferring money from their own bank account to one that is accessible to a fraudster.
The BBC has obtained exclusive figures from the financial ombudsman that show there have been nearly 100 complaints about "vishing" (voice phishing) and courier fraud in the past three months.
Until this summer, there had been none.
Banks say they treat each case individually.
Vishing and courier fraud target some of the most vulnerable people in society by duping them into transferring money directly into criminals' accounts, or handing over bank cards and personal identification numbers (PINs) to couriers.
The average age of victims is 70.
Transferring life savings
Gangs posing as police or bank employees ring people at home telling them there has been a fraud and to ring their bank.
But the criminal does not hang up, so when the victim tries to ring out they are still connected to the fraudster.
Although the scams have been around for a while, there has been a huge surge in reported cases in recent months.
The Metropolitan Police alone has had 2,200 cases this year and in 2012 victims lost £3.5m in its area.
One person lost £155,000.
Surrey Police has a dedicated unit that has noted a huge increase in the number of vishing offences this summer.
They have had 301 cases since July, with 81 people losing a total of £865,000.
Despite the numbers involved, the financial ombudsman had not received any complaints until this year, leading to fears that the banks might be becoming more hardline on paying out to victims of this fraud.
The banks do pay out in 99% of fraud cases but treat every case individually.
In many of these vishing frauds, banks say the victims willingly take the criminals through every security procedure, even entering PINs and transferring life savings into the fraudsters' accounts.
Caroline Wayman, the principal ombudsman and legal director, said: "The ombudsman receives complaints about many different types of fraud every week, although in recent months we have seen an increase in more low-tech but effective scams.
"Some of these work by gaining people's confidence over the phone and then encouraging them to divulge their bank details, hand over their cards, or even transfer money directly into an account of the fraudsters' choosing."
She said that if somebody has been a victim of this type of scam they should get in touch with their bank as soon as possible.
"If you are unhappy with the way your complaint was handled, give the ombudsman a call, as we may be able to help," she added.
'Held responsible'
Jenny Parkinson is one of those who believed she was talking to her bank, Santander, when she moved her life savings of £68,000 into what she thought was a safe account in June.
The bank says that while it understands how distressing this must have been, it cannot be held responsible for her loss because she is the one who moved the money.
"Mrs Parkinson transferred the funds to two Barclays accounts via online banking. We liaised with Barclays and provided the details of the recipient accounts," a spokesperson for Santander said.
"Regretfully, as the funds had been removed from those accounts our efforts to help Mrs Parkinson recover her funds were not successful. Santander has no means to trace the funds beyond the transfer from Santander to Barclays."
Santander warned its customers to "act with caution" if contacted by someone claiming to be from the bank, and to remember that Santander would never ask a customer to transfer funds or disclose their password.
"We take every precaution we can to help protect our customers' funds. However, the introduction of faster payments has changed customer behaviour and many customers now make infrequent transfers of large sums, and we have to balance security with providing the services our customers expect when they use online banking," the spokesman added.
5live Investigates is broadcast on BBC Radio 5live on Sunday, 15 December at 11:00 GMT.