Al-Sweady inquiry: Body removal results 'unfortunate'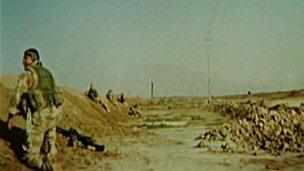 A decision to take Iraqi insurgents' bodies back to a British base after a firefight had "unfortunate" unforeseen consequences, an inquiry has heard.
Col Jonathan Biggart said the decision was "unusual but reasonable" given the circumstances at the time.
The Al-Sweady Public Inquiry is investigating claims detainees were mistreated and killed at the base after the so-called Battle of Danny Boy.
The Ministry of Defence denies the allegations.
Set up in 2010, the inquiry is named after one of the Iraqi men, 19-year-old Hamid al-Sweady, who is alleged to have been unlawfully killed while being held after the battle.
Lawyers acting for several Iraqi clients claim some were taken alive following the battle and mistreated or unlawfully killed at the nearby Camp Abu Naj (CAN) base.
Some soldiers have told the inquiry that the order to take the bodies from the battlefield, which was not usual practice, came from the brigade headquarters in Basra.
One witness said it came from the then-brigade commander Brig Andrew Kennett, who the witness said, later described it as a "huge mistake".
But Col Biggart, Brig Kennett's chief of staff, told the inquiry no specific order was given to remove the bodies.
He said it had been decided to try to identify the dead to see if they were linked with the murder of six Royal Military Police officers the previous year by taking photographs of them.
"To my mind the task was clear - get photographs of the insurgents; it was not to take the dead back to CAN," he said.
Col Biggart was later told that no cameras were available on the battlefield and, as it was getting dark, the plan was to take any bodies back to the base.
"In the circumstances the decision to take the dead back to CAN seemed to me a reasonable course to take," he said.
Col Biggart said the consequences of the decision, including the effect handling the bodies had on British soldiers and the anger it prompted in the local community at the time, were unfortunate but could not have been foreseen.
The inquiry heard that, at the time, Col Biggart had been made aware that the commanding officer of the men involved had raised concerns about the psychological impact it had had on his men.
"I am viewing the actions that were taken at the time given the information we had at the time. Sitting here today, knowing what happened, one might have made a different decision, but that's a different situation," he said.
"It's had consequences we couldn't foresee, some of which, many of which were unfortunate, such as the suffering of the troops involved, I absolutely accept that."
Related Internet Links
The BBC is not responsible for the content of external sites.