Two guilty over abusive tweets to Caroline Criado-Perez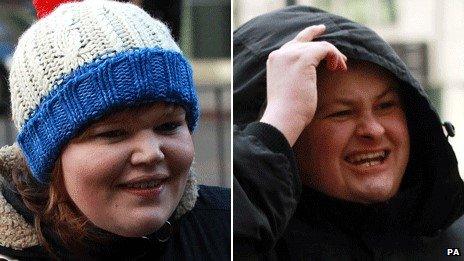 Two people have pleaded guilty to sending "menacing" tweets to feminist campaigner Caroline Criado-Perez.
Isabella Sorley, 23, of Newcastle, and John Nimmo, 25, of South Shields, admitted at Westminster Magistrates' Court sending the messages over a public communications network.
They will be sentenced on 24 January.
Ms Criado-Perez, of Rutland, received abuse after her campaign for a woman to appear on a bank note resulted in Jane Austen being selected for the £10 note.
The 29-year-old said the case was a "small drop in the ocean" compared to the abuse she and other women received online.
The court heard that one tweet from Sorley started with an expletive and continued: "Die you worthless piece of crap." She was also told to "go kill yourself".
She also sent the message to Ms Criado-Perez: "I've only just got out of prison and would happily do more time to see you berried!!"
In a separate set of abusive messages Nimmo told Ms Criado-Perez to "shut up" and made references to rape followed by "I will find you (smiley face)".
Alison Morgan, prosecuting, said Ms Criado-Perez had received abusive messages "of one type or another" from 86 Twitter accounts including those accounts attributed to both Nimmo and Sorley.
"Caroline Criado-Perez has suffered life-changing psychological effects from the abuse which she received on Twitter," she told the court.
"In particular, the menacing nature of the tweets sent by both defendants caused her significant fear that they would find her and carry out their threats."
Ms Criado-Perez later told BBC Radio 4's PM programme: "I'm really relieved that they pleaded guilty and it meant that we don't have to drag this out any further and have a whole trial about it.
"This is a small drop in the ocean, not just in terms of the amount of abuse that I was sent, where way more people than just two were involved, but also women in general, the amount of abuse that they get online and how few people see any form of justice."
Asked how she felt about one of her attackers being a woman, she said: "I think it is really sad but on the other hand I don't see why we should think that women who are brought up in a society steeped in misogyny should be any less affected by it and any less likely to hate women."
Ms Morgan told the court that in an interview with police Sorley admitted sending some of the tweets suggesting that she had been "off my face on drink" at the time.
Paul Kennedy, representing Nimmo, described him as a "somewhat sad individual" with "some level of learning difficulties" who had suffered bullying at school.
Mr Kennedy said: "He is a social recluse, that is exactly what he is really, he rarely leaves the house but to empty the bins.
"He sits in the house 24/7, he has nothing to do, he claims benefits."
Sorley and Nimmo admitted sending by means of a public electronic communications network messages which were menacing in character, contrary to Section 127(1) (A) of the Communications Act 2003.
Sorley was remanded in custody and Nimmo was bailed, both until 24 January.
District Judge Howard Riddle warned Sorley, whose previous convictions included being drunk and disorderly on 21 occasions, that it was "almost inevitable" she would receive a jail sentence.
The judge told Nimmo, described in court as of "previous good character", that "all options" to sentencing remained open.
Ms Criado-Perez's campaign began after the Bank of England announced in April last year that social reformer Elizabeth Fry would be dropped from new £5 notes in favour of Winston Churchill, leaving no female presence on bank notes.
Sorley and Nimmo sent the tweets in July after the Governor of the Bank of England, Mark Carney, said Jane Austen would replace Charles Darwin on the £10 note.
The court heard Nimmo had also targeted Stella Creasy, Labour MP for Walthamstow, with the message "The things I cud do to u (smiley face)" and called her "Dumb blond..." followed by an offensive word.
Ms Morgan told the court that Ms Creasy had also suffered a "substantial impact" as a result of "these events".
Nimmo was arrested on 30 July at home after the BBC's Newsnight programme handed over material outlining findings that identified him as one of the people abusing the women online.
It was established he sent 20 tweets to one of the women and four tweets to the other, using six separate Twitter accounts.
Sorley was arrested on 22 October at home after officers identified her as responsible for setting up three anonymous Twitter accounts and sending six tweets to one of the women, all sent on 30 July.
Scotland Yard said the evidence demonstrated Nimmo "acted to cover his identity, anonymously sending messages that were deliberately designed to cause fear and apprehension".
It added that Sorley's actions were "deliberate, planned and deliberately worded to create fear and a credible menace".
The Crown Prosecution Service had said earlier that the prosecution of a separate suspect who allegedly sent offensive messages to Ms Creasy over the same issue was not in the public interest.
Police said a 32-year-old man arrested in Bristol and a 27-year-old man arrested in York remained on bail as part of their investigation.
The abuse received by Ms Criado-Perez and Ms Creasy also resulted in Twitter updating its rules and confirmed it would introduce an in-tweet "report abuse" button on all platforms, including desktops.
The boss of Twitter UK, Tony Wang, also apologised to women who had experienced abuse on the social networking site.
Mr Wang the threats were "simply not acceptable" and pledged to do more to tackle abusive behaviour.
Related Internet Links
The BBC is not responsible for the content of external sites.