Terrorist training could carry life prison sentence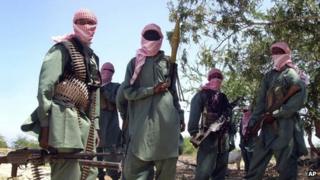 Extremists who undertake terrorism training could face life in prison under a new government proposal.
The life terms would replace current 14-year maximum sentences for activities including weapons training and making or possessing explosives.
Ministers are also considering automatic life sentences for anyone convicted of a second serious terrorism offence, the Daily Telegraph reports.
The new sentencing rules would apply to those convicted in England and Wales.
'Toughest sentences'
"People want to know that those who commit, or try to commit, terrorist offences face the toughest punishments," a Whitehall source told the Telegraph.
"By increasing the maximum sentence to life, offenders like these won't get out of prison until the Parole Board judges them to no longer be a risk.
"Even when they're out, we'll still be keeping an eye on them and they can go straight back to prison if they break their life licence."
A Ministry of Justice spokesman said: "We are looking at options to further ensure that those convicted of the most serious terror offences are given the toughest sentences possible."
The spokesman said details of the plans would "follow in due course".
Early release
Last year, the government said suspected UK terrorists attempting to travel overseas for training could have their passports confiscated.
Home Secretary Theresa May has described Syria as a training ground for a new generation of British terrorists, and there have also been concerns about Britons receiving terrorism training in countries including Somalia and Yemen.
In October, Justice Secretary Chris Grayling announced plans to end the practice of releasing prisoners halfway through their sentences in cases of some terrorism offences, as well as child rape.
Under the proposal, criminals would only be released early if the Parole Board felt they no longer posed a threat.
Different rules apply in Scotland and Northern Ireland, which have their own justice systems.