Phone-hacking trial: Rebekah Brooks' husband 'got rid of laptop'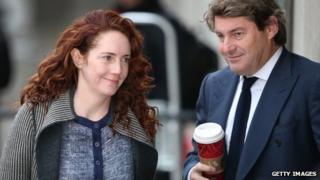 CCTV footage appearing to show Rebekah Brooks' husband leaving a laptop and Jiffy bag in a car park under their west London flat has been shown to jurors in the phone-hacking trial.
The recordings were made on 17 July 2011, the day the ex-News International chief executive was arrested.
Prosecutors said Charlie Brooks was carrying the items as he walked out of a lift but later appeared empty-handed.
Mr and Mrs Brooks both deny conspiracy to pervert the course of justice.
The couple, sitting side by side, watched from the dock as the clips filmed in the underground car park of their Chelsea Harbour home were shown to the Old Bailey jury.
Mrs Brooks had spent the weekend of her arrest holding a series of meetings in the Oxfordshire village of Enstone, the court heard.
She had been due to appear before a parliamentary select committee on the following Tuesday but was arrested on Sunday when she returned to London.
A security firm drafted in to protect the couple codenamed the movements over that weekend Operation Blackhawk, jurors were told.
Blackhawk was the codename designated to Mrs Brooks when her personal security was stepped up in 2011 amid the phone-hacking allegations, the court heard.
Earlier, jurors were told Mrs Brooks asked for her office to be swept for bugs a day before police launched their hacking investigation in January 2011.
Her email, copied to a co-defendant, News International head of security Mark Hanna, read: "Can we have my phones and office swept... thanks. Discreetly."
In a subsequent email, Mr Hanna said Mrs Brooks' Chelsea flat and her car would also be checked for bugs.
The court heard the News International offices were routinely searched for listening devices to avoid rival journalists snatching scoops and eavesdropping on any discussions about parent company News Corporation's planned BSkyB takeover bid.
'Entirely honest'
Jane Viner, News International's group director for property and facilities, also told jurors Mrs Brooks had been sent "threatening" post as the hacking allegations emerged.
Most were intercepted in the post room, and the rest were usually spotted by personal assistants, she added.
The Metropolitan Police launched Operation Weeting on 26 January 2011 to investigate evidence of phone hacking at the News of the World, the court has previously heard.
Mr Hanna, a former soldier, was described by his lawyer in court as "entirely honest... trustworthy".
Jane Viner, his then boss, said she had had concerns about his welfare at the time because of his intense workload.
Mrs Brooks, 45, of Churchill, Oxfordshire, denies further charges of hacking and conspiracy to commit misconduct in a public office.
She edited the News of the World for three years from 2000, then the Sun for six years. In 2009, she became News International's chief executive.
Mr Hanna denies conspiracy to pervert the course of justice by concealing computers and documents from the police.
The trial continues.