'Secure college' plans for young offenders revealed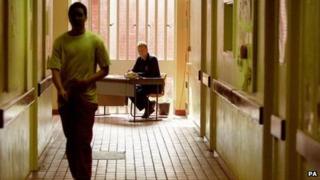 Plans to build the first "secure college" for young criminals in England and Wales have been confirmed.
Ministers said the college, set to open in Leicestershire in 2017, would house hundreds of young offenders and double the time they spent in education.
Deputy PM Nick Clegg said the college aimed to cut "sky high" reoffending rates by those left "on the scrapheap".
Labour said building one new facility would do little to cut reoffending across the wider system.
Young offenders are sent to either a secure training centre or a young offenders institution, depending on their age and offences.
Currently, they spend an average of 12 hours a week in education while in detention - but the new college would double that.
The college would have a head teacher, or principal, who would be in the core management team alongside an offender manager. It will eventually house up to 320 young offenders aged between 12 and 17-years-old.
It will be built on land already owned by the government alongside Glen Parva Young Offenders Institution and it will predominantly house people from the East Midlands or east of England.
Ministers are also inviting organisations to compete to provide double the current amount of education given to those held in YOIs.
Nearly three-quarters of young offenders re-offend within a year of being released.
Mr Clegg said: "Criminals can't go unpunished, but young people who've made mistakes and committed crime can't simply be left on the scrapheap. If we expect them to turn their lives around, we have to put their time inside to good use.
"The coalition has reduced the number of young people in custody. But reoffending is sky high in this country and the answer lies in education and opportunity to change.
"Some young offenders spend less than one school day a week in the classroom. By increasing the amount of time young offenders spend learning, we can help them to move away from crime, take responsibility for their actions, and rebuild their lives."
Costs
There were approximately 1,300 people in youth custody at the end of 2013.
Ministers hope that secure colleges will be vastly cheaper than the current four secure training centres (STC), which it wants to close.
It costs almost £250m to detain young offenders, with each place in an STC costing an average of £178,000 a year.
The Ministry of Justice says that the Secure College will provide the same level of security plus greater education for £100,000 less.
"Nearly three-quarters of young offenders who leave custody reoffend within a year," said Justice Secretary Chris Grayling. "Clearly the system as it is at the moment isn't working."
"We must use this time to tackle the root cause of their offending and give them the skills and self-discipline they need to gain employment or training upon release."
For Labour, shadow justice secretary Sadiq Khan said the government's announcement on youth justice was an "admission of failure" from Nick Clegg and Chris Grayling.
He added: "Building the Secure College won't even begin until after the next general election.
"Education is crucial in reforming criminals but building one new establishment in the future will do little to reduce the reoffending rate across the rest of the country.
"The government has also failed to explain how much their plans will cost, nor how they will be funded - leaving fears that other parts of the youth justice budget will be cut to pay for it."
Penelope Gibbs, chair of the Standing Committee for Youth Justice, an umbrella group representing 30 campaign organisations and charities, said: "The children who are locked up in our prisons have a range of very serious needs including mental health problems, drug and alcohol addiction, histories of abuse, trauma and violence.
"Simply focusing on education is misguided and will not address the underlying causes behind their offending that need to be tackled if children are to be turned away from a life of crime.
"A more holistic therapeutic model is needed rather than a gimmicky repackaging of our current costly and broken approach to child custody."