David Cameron's jokes for journalists target Boris and bald spot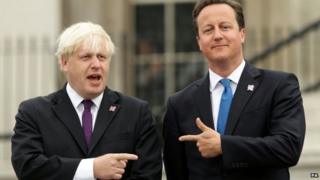 The prime minister has reeled off gags about his bald spot and his political rivals at a dinner for journalists.
David Cameron's comic turn took aim at Labour's Ed Balls, Deputy PM Nick Clegg and fellow Old Etonian Boris Johnson.
In a reference to their school days in Oxford's exclusive Bullingdon dining club, he joked that the last time he had been at "a dinner this posh, Boris spent the rest of the night in prison".
He was addressing the first Westminster Correspondents' Dinner for 40 years.
'Mean streets'
As political journalists gathered for the black tie event, Mr Cameron said he wanted to announce his "priorities for the year ahead".
"Number one," he said. "Keeping the bald spot under control."
Lobby reporters who watch the prime minister in action from the gallery looking down on the Commons chamber often comment on his hair.
The jibes were revived when Mr Cameron's hairdresser Lino Carbosiero was appointed an MBE in the New Year's Honours - an award the PM told the dinner on Thursday night he knew nothing about in advance.
His other priorities, he said, were keeping the coalition together in the face of Lib Dem leadership attempts to distance itself from the Tories.
Implying Nick Clegg's background was not dissimilar to his own, Mr Cameron referred to the deputy prime minister as "the product of the mean streets of Westminster and Cambridge".
'Antiques Roadshow'
Comedy has become a feature of the annual White House Correspondents' Association Dinner in the US, in which the president of the day is expected to bring a smile to the faces of the journalists who spend all year reporting his more serious statements.
President Obama used his 2013 address to poke fun at himself and his opponents - joking he was no longer the "strapping young Muslim socialist" he used to be.
One of those watching Mr Cameron's own attempt at comedy was ITV political correspondent Paul Brand, who said the speech was "hilarious".
"Whatever you make of his politics, he can crack a joke," he tweeted.
Another correspondent noted there was only one self-deprecating gag.
On the receiving end of one of the PM's gentle digs was shadow chancellor Ed Balls - one of the Tory front bench's chief tormentors.
"We both love The Sound of Music," Mr Cameron said. "We both love Delia Smith... and we both like the Antiques Roadshow.
"I like it for the heartwarming stories, Ed likes it when they sell the family silver."
On a more serious note, Mr Cameron ended his address paying tribute to the British political press who he said had a "vital role to play in our country".
"Tenacious, uncontrollable, sceptical, often uncomfortable for us politicians, British political reporting is deservedly respected around the world for the way it probes, inquires and scrutinises.
"These things are lynchpins of our democracy."