Constance Briscoe: Her rise and fall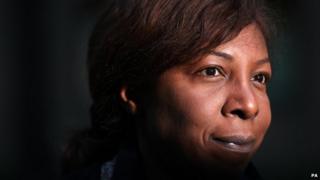 She was one of Britain's first black female judges. But that turned out to be among the least remarkable chapters of Constance Briscoe's extraordinary story.
"There are very few as good as me," the part-time judge once said of her skills as a barrister.
But when she found herself in the dock, Briscoe could not persuade the jury she was telling the truth.
It was a fall of some distance for the south London daughter of Jamaican immigrants.
The third of 11 siblings and half-siblings, she escaped a troubled childhood to battle her way to the top of the legal profession.
By the time she was arrested, she was neighbours with the elite of Westminster.
She spoke with a polished, middle-class accent, sent her two children to private school and appeared on television criticising those who, she said, chose not to work.
'Ugly'
But the young Briscoe, daughter of black and mixed-race parents, struggled with her self-image.
"She didn't like her colour," according to her mother.
As soon as she could afford it, aged 22, she went to see a cosmetic surgeon about altering her appearance.
The 56-year-old has since spent thousands making her nose less pronounced, her mouth smaller, even her feet narrower.
She blamed her mother, Carmen Briscoe-Mitchell, for her unhappiness who for years, she said, had abused her physically and emotionally.
Briscoe documented the disturbing allegations in an explosive curtly-titled memoir, Ugly.
The book became a UK bestseller and thrust her into the public eye.
It would also split the family and see mother and daughter meet in court when Mrs Briscoe-Mitchell sued for libel.
'All about revenge'
Whatever the truth, Briscoe's childhood shaped the adult she would become.
"Had I not had my past, I'd not have my future," she has said.
But her mother Carmen rejects the barrister's abuse claims - and has very different recollections of her daughter's formative years.
Mrs Briscoe-Mitchell has spoken of a tough life trying to raise 11 children with her rarely-present husband George Briscoe.
"He was in and out," she has said. "He'd just come and make a baby and go back to his girlfriend and that was my life."
Supported by some of her other children, Mrs Briscoe-Mitchell sued her high-flying daughter over the book's "lies".
"I actually couldn't believe what I was reading," older sister Patsy said of the book at the 2008 libel trial.
Briscoe thought she could lose and, fearing the end of her legal career, says she had made plans to move to France with her then partner Anthony Arlidge QC - who would later play a part in her eventual downfall.
But she won.
She convinced the jury her claims were "substantially true".
Betrayed
Briscoe had apparently developed her legal skills at an early age; as a teenager she reportedly took out a successful private prosecution against her stepfather for assault.
Made a recorder or part-time judge in 1996, she was described as hard-line with a "strict sentencing stance".
She says she was inspired as a teenager by the charismatic Michael Mansfield QC on a school trip and kept him up to date as she progressed through her education.
Aged 28, her perseverance paid off and she secured a pupillage at Mr Mansfield's radical Tooks Court Chambers.
She was watching up close as her left-wing mentor defended the likes of Arthur Scargill during the miners' strike.
"This was brilliant," the barrister recalled in her memoirs. "This was the kind of work I wanted for myself."
But it didn't work out. Briscoe says she clashed with other black lawyers who resented her.
"They didn't really want me on their patch as another black person," she told the Guardian in 2008.
But one of her contemporaries Baroness Helena Kennedy remembers it differently.
"Constance doesn't make friends easily," she has said. "She wasn't good at being one of the girls."
Years later though, she would find common cause with another woman - her friend and neighbour Vicky Pryce.
Both felt betrayed.
In the same year that Chris Huhne's affair with an aide became public, Briscoe's partner of 12 years, 75-year-old Anthony Arlidge, left her for a trainee barrister 50 years his junior.
"I wanted nothing from you but your love, affection and company," she reportedly told him in an email.
"You took my love, crushed it up and then you threw it in my face."
As she stood trial - accused of lying to the police, altering a witness statement, and sending a false document to an expert witness - the prosecution was struck by Briscoe's desire to bring Huhne down.
It was that attempt to help her friend get revenge - and the lies she told about it to police - that would eventually see the career she had fought so hard to build come crashing to an end.