Marital coercion defence 'to be scrapped'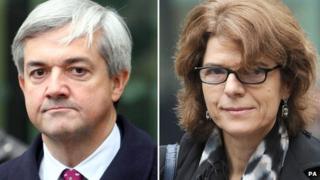 The historical defence of marital coercion is to be abolished in England and Wales, the government has said.
Currently, it is a defence to all criminal offences except treason and murder for a wife to show she committed the offence in the presence of, and under the coercion of, her husband.
Last year, the ex-wife of former cabinet minister Chris Huhne used the defence unsuccessfully at her trial.
Justice minister Lord Faulks told peers the defence was now an anachronism.
'Truly idiotic'
The Conservative minister was speaking in the House of Lords during the report stage of the Anti-social Behaviour, Crime and Policing Bill.
The senior barrister and independent peer, Lord Pannick, who initially tabled the amendment, said he was delighted that the "truly idiotic" law was at long last to be abolished.
Labour frontbenchers backed the amendment.
In both of Vicky Pryce's trials, she accepted she had taken her husband Mr Huhne's penalty points for speeding, but adopted a defence of marital coercion, claiming he had made her sign a form he had already completed in her name.
The first jury failed to reach a decision. Ms Pryce was found guilty of perverting the course of justice at a retrial.
Wrongly convicted
The Anti-social Behaviour Bill also included plans to changes in the law on miscarriages of justice.
The coalition's proposal - which would have meant a wrongly convicted person would only have been entitled to compensation if a newly discovered fact showed them to be innocent - was defeated in the House of Lords.
The change in law would have applied in England and Wales and to some cases in Northern Ireland.
However, it was an amendment made by Lord Pannick that was backed instead by peers from across the political spectrum, by 245 to 222.
He proposed that a person would be considered a victim of a miscarriage of justice, and entitled to compensation, if a newly discovered fact showed conclusively that the evidence against the person was "so undermined that no conviction could possibly be based on it".