Church of England still 'Tory Party at prayer'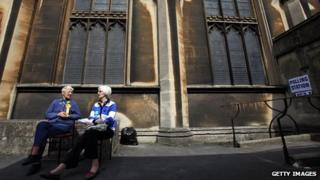 Church of England worshippers are more likely to vote for the Conservative Party, according to new research.
The data also suggests Catholics tend to support the Labour Party.
Theos, a Christian think tank, published its report after compiling surveys of voters in Britain stretching back to the 1950s.
The research also suggests attitudes to welfare spending differed according to how frequently worshippers attended religious services.
The findings were revealed in a report, Voting and Values in Britain: Does Religion Count?, which analysed data from the British Election Survey and the British Social Attitudes survey.
Fluid voting intentions
While overall the researchers found people who describe themselves as Anglicans tend to vote Conservative and Catholics Labour, there were differences within denominations.
Nominal Anglicans - those who rarely attend religious services - have historically tended to vote Labour, though this changed for the first time in 2010.
In contrast, those who attend Catholic services either frequently or infrequently have usually supported the Labour Party.
Nonconformist Christians such as Methodist and United Reformed worshippers are more fluid in their voting intentions.
The researchers said that analysing voting patterns for non-Christian religions was more difficult, because of the smaller sample sizes available.
But in the 2010 election, Muslims favoured Labour, while the Jewish vote went to the Conservatives.
Hindus tended to support Labour, while Sikhs were evenly split between the two main parties.
Buddhists disproportionately voted for the Liberal Democrats at the last election.
No block vote
As well as measuring voting patterns, the researchers also checked people's support for social security spending.
They found that, although overall public opinion has moved against welfare support, those who frequently attended religious services were more likely to back it, even if it resulted in higher taxes.
This finding was true whichever political party people voted for.
Nick Spencer, who co-authored the report, says that it is the first hard evidence of a link between faith and voting patterns.
But he said that, unlike the United States, there was no block vote of people with religiously-driven concerns - such as abortion or sexuality - that British politicians could court.
"Socio-economic factors are still the dominant theme when it comes to voting," he added.
"[The research] does show, however, that there are clear and significant alignments between various religious and political camps, of which politicians should be aware."
Believers were just as likely to care about mainstream subjects - such as the economy and immigration - as the general public.
Those who did not identify with any religious group were more likely to vary their political support, although overall their support for the Conservatives has been lower, and more recently it has been higher for the Liberal Democrats.