Serco 'on right path' after tagging overcharging, says minister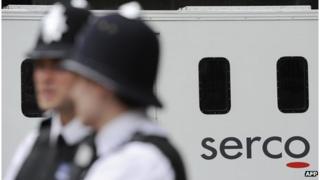 Private security firm Serco has put together a "thorough plan for corporate renewal" after overcharging for tagging criminals, Cabinet Office Minister Francis Maude says.
Serco has already repaid £68.5m to the government for discrepancies, including billing to tag people who were dead.
Its plan includes creating ethics committees in each company division.
Serco chief executive Ed Casey said the company was taking "significant steps" to rebuild government confidence.
Serco and another private security firm, G4S, were stripped of responsibility for tagging criminals in the UK after details of overcharging emerged.
An audit by accountants PricewaterhouseCoopers alleged that overcharging began as early as 2005.
The Serious Fraud Office has begun a criminal investigation.
And the tagging contracts have been handed to outsourcing company Capita.
Building confidence
Serco said it would place dealing with customers fairly "above any other conflicting drivers for success".
Mr Casey said he believed Serco could "now be considered on an equal basis to other suppliers for current bids".
In a statement, Mr Maude praised the firm's efforts, saying: "This plan represents the right direction of travel to meet our expectations as a customer."
He said the government would continue to monitor Serco's implementation of its plan and he "hopes this will enable our confidence to continue to build".
"This does not affect any consideration by the Serious Fraud Office, which acts independently of government, in relation to the material concerns previously identified," he added.