Dave Lee Travis trial: DJ a 'gentleman' not a 'sexual predator'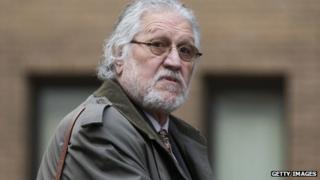 Dave Lee Travis was seen by his colleagues as a "gentleman" and far from a "sexual predator", the DJ's barrister has told a court.
This followed the closing speech of the prosecution, in which jurors were told that although courts regularly dealt with more "horrific cases" they were not to "judge degrees of guilt".
Mr Travis denies 13 counts of indecent assault and one of sexual assault.
The alleged incidents involve 11 women and date back to 1976.
Mr Travis's barrister, Stephen Vullo, told Southwark Crown Court that during the former Radio 1 DJ's career there was "not one whisper out there of what he is now being accused of".
Referring to three of the 68-year-old's former personal assistants who appeared as witnesses, Mr Vullo said: "These three witnessed his behaviour on a daily basis, in all of the venues that you are being said or told he committed offences.
"They were with him throughout all these periods of time, witnessed his behaviour, and they missed it - totally missed that they were working with a sexual predator.
"Or he wasn't and has never been a sexual predator, that's the other possibility."
Mr Vullo said the prosecution had "thrown a lot of mud" at Mr Travis, but that "mud-throwing is not evidence".
'Legitimate claims'
Earlier, prosecutor Miranda Moore QC said that while jurors might not feel the allegations against Mr Travis were as serious as in other sex offence cases, "it is not for you to judge degrees of guilt".
"You judge whether the counts have been carried out on the indictment," she said.
Referring to the most recent alleged assault, where it is claimed Mr Travis grabbed a journalist's breasts as if to check their size, Ms Moore said it sounded like a Carry On film but this did not mean it was not serious.
Mr Travis has told the court he was "astonished" by claims that he had groped victims throughout the course of his career.
However, Ms Moore said that women had gone to police with legitimate claims in response to the press conference Mr Travis held after his initial arrest in which he "said he was blameless and hadn't done anything untoward" and the allegations were "a slur on his character".
Ms Moore said his comments to the press had "motivated them sufficiently to say, 'Oh yes you did, you did it to me.'"
"There is absolutely no evidence of any of these ladies money-grabbing, selling stories or anything. None of them has waived their anonymity. None of their names can be published," Ms Moore told the court.
She added that the alleged victims had "various reasons for not coming forward at the time" of the alleged offences.
"Guilt, distress, being ashamed, being embarrassed, concerned that they were the only one and therefore would not be believed.
"And being concerned for reporting the offence for entirely understandable and sensible reasons: it was often their first job, they'd worked hard for it and they didn't want to put that at risk."
Mr Travis, from Buckinghamshire, is being tried under his real name, David Patrick Griffin.
The trial continues.