Sex offenders released from prison without treatment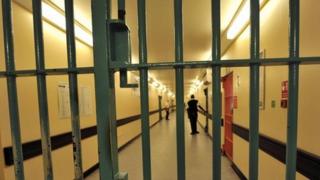 Charities are warning that a shortage of places on treatment programmes for sex offenders will result in some prisoners reoffending.
In 2012-13 there were around 11,000 sex offenders in prison in England and Wales but only 1,092 treatment programmes were completed.
The Justice Ministry said the availability of programmes was increasing for "those most in need".
One offender who did not have treatment has told the BBC he is still a risk.
A report from the National Audit Office found that fewer sex offender treatment programmes are being provided in prisons. Last year's figure of 1,092 programmes delivered was above the target of 1,010. The target for 2013-14 is 886.
The children's charity, the NSPCC, analysed prison inspection reports. It found that inspectors raised concerns about sex offender treatment provision in 22 prisons in England and Wales.
The NSPCC said 11 prisons were releasing prisoners into the community without having received treatment.
Prison inspectors found that 40 sex offenders would be released from HMP Brixton without treatment.
HMP Oakwood had 300 sex offenders and no sex offender treatment programmes.
The independent monitoring board for HMP Littlehey, which has around 600 sex offenders, found that only 48 received any form of sex offence treatment programme.
The board expressed concern that there was still no national programme for prisoners who denied their offence.
'Shocked' at scale
Jon Brown from the NSPCC says the shortage of treatment puts children at risk.
"Sex offender treatment in prison is a crucial investment in child protection. In the long term, it is saving the UK and the government an awful lot of money and it is saving future victims as well. So it is a crucial investment in preventative work and we should have it at the forefront of the prioritisation of expenditure," he said.
The number of sex offenders in jails in England and Wales has risen in recent years - they now make up 15% of the prison population.
The victims' commissioner, Baroness Newlove, said the shortage of treatment programmes for sex offenders meant they could be freed without addressing their behaviour, and this could place others in danger.
"I am shocked at the scale of this and that's why I would like to see government look more closely at the lack of provision within the prison service for convicted paedophiles and sex offenders to undergo treatment plans before release from prison," she said.
Isobel (not her real name) told BBC 5 live Investigates that her brother was serving an 18-month custodial sentence for abusing a vulnerable adult. She is worried that he has not received treatment and is due to be released from prison soon.
"When he got sent to prison I was really hoping someone would address his behaviour. If he was forced to sit down and confront things that would be great. I am worried about his release because his thinking hasn't changed, or his ability to form normal relationships," she said.
Justice Minister Jeremy Wright said: "We make no apology for holding more sex offenders in prison than ever before.
"It is untrue to say that funding for sex offender treatment programmes has been cut - in fact, we are increasing the availability of programmes.
"We provide a range of programmes for this highly complex group of offenders. These are tailored to address an individual's risk and need, and can also include substance misuse, anger management and violence reduction.
"Sex offender treatment programmes are not suitable for every prisoner - in each case, a thorough assessment will be carried out."
You can listen to the full report on 5 live Investigates on Sunday, 9 February at 11:00 GMT on BBC 5 live.