Dave Lee Travis jurors told to ignore Roache verdict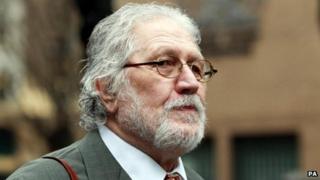 The jury in the trial of veteran DJ Dave Lee Travis must ignore the cases of other celebrities, the judge has said.
Judge Anthony Leonard said jurors must not be influenced by the acquittal of Coronation Street star William Roache or other celebrity cases.
Summing up, he said "the verdicts of the jury in the Bill Roache trial are all irrelevant to your consideration".
Mr Travis denies 13 counts of indecent assault and one of sexual assault.
The judge told jurors there is "no such thing as guilty or innocence by association".
He said: "You won't be unaware that the Jimmy Savile inquiry has spawned a number of inquiries into various people who were well known in the 1970s and beyond.
"During the course of this trial alone Rolf Harris has appeared here and of course Bill Roache has been tried elsewhere.
"The verdicts of the jury in the Bill Roache trial are all irrelevant to your consideration of this case."
Coronation Street star Mr Roache was found not guilty of two counts of rape and four charges of indecent assault following a trial at Preston Crown Court.
'Changing attitudes'
Jurors were reminded that the majority of the alleged victims came forward after Mr Travis's initial arrest was reported in the press.
The disc jockey, known as DLT, was first arrested in 2012 after two alleged victims independently went to police with their claims.
He was investigated by officers from Scotland Yard's Operation Yewtree.
Mr Travis, now 68, denies indecently assaulting 10 women and sexually assaulting another in incidents dating back to 1976, at the height of his fame.
"You are trying allegations of historic sexual assaults against someone who, as I say, has been in the public eye for many years," the judge told the jury.
"The fact that the defendant is a well-known personality does not change the rules of the way that you try this case."
He also told jurors at London's Southwark Crown Court: "There is a lot that has been said during this trial about the attitudes to sexual offences in the 70s, 80s and perhaps the 90s and now.
"It may be that attitudes of men and women in the work place have changed and that behaviour once thought acceptable is no longer tolerated.
"It may be that more women are less likely to put up with such behaviour and they have more efficient channels to deal with them.
"But this trial is not the place for a debate about changing attitudes towards sexual offences committed in the work place."
He said many of the alleged offences "took place a long time ago", adding: "It follows that memories will fade or disappear altogether."
The judge told jury members that "it is your judgement alone that counts".
The trial was adjourned until Monday when Judge Leonard will continue summing up before sending the jury out to deliberate its verdicts.