Thames risk-to-life flood warnings downgraded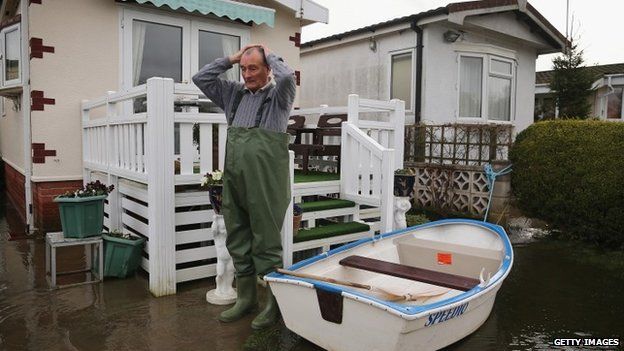 The lives of people living along the Thames are considered no longer at risk as the Environment Agency has downgraded its severe flood warnings there.
But people are still urged to be vigilant, with high water levels expected to remain owing to more rain.
Meanwhile, the government has urged insurers to deal with flood claims as quickly as possible.
As the prime minister earlier unveiled a £10m fund to help businesses recover from floods, his spokesman confirmed No 10 would hold a meeting with insurers on Tuesday.
David Cameron is urging the industry to offer more help to dry out the UK's 5,000-plus flooded properties.
Cornwall, Devon and parts of Somerset have seen bursts of rain on Monday, while 75 properties are still without electricity across Hampshire, Dorset and Berkshire after power cuts last week.
But Environment Agency flood risk manager Katherine Evans said the situation was "generally improving".
She would not rule out further flooding as a result of ground water across the South East, in parts of Kent, Wiltshire, Hampshire and Dorset.
"We will see that problem continue to exist for the next few weeks, if not months," she warned.
The prime minister, who visited flood-hit parts of Worcestershire and Gloucestershire on Monday, is chairing another meeting of the Cobra emergency committee.
Arriving at the meeting, Defence Secretary Philip Hammond said "plenty" of troops had been deployed to flood-hit areas, and that more would be made available if necessary.
Military personnel from the Royal Navy, Royal Marines, Army and the Royal Air Force are helping with the flood relief effort in affected parts, including the Somerset Levels and Severn Valley.
More than 3,500 troops are on the ground, with thousands more on stand-by.
Meanwhile, Cabinet Office ministers Oliver Letwin and Jo Johnson will chair Tuesday's meeting with insurance representatives.
The prime minister's official spokesman said the insurance industry should do its best to maximise help to flood-hit victims, including the "speedy" processing of claims and the provision of dehumidifiers to dry properties out.
He declined to say whether the sector should be offering "premium holidays" to those who have been flooded.
Up to 20mm (0.8in) of rain was forecast in south-west England on Monday.
While this would not normally cause too many problems, the concern is that ground is already saturated.
As well as the two severe flood warnings, the Environment Agency has almost 300 less serious flood warnings and flood alerts in England and Wales.
Tuesday should be brighter and drier, with temperatures higher than average for this time of year, said BBC Weather forecaster Matt Taylor.
Another area of low pressure looks set to arrive on Thursday and Friday, with stronger winds and more rain, but it is not expected to be as intense as last week.
The £10m Business Support Scheme unveiled by the prime minister will make funds available to small and medium-sized companies affected by storms.
Businesses are also being given extra time to file their accounts, without being penalised. A helpline is being launched and can be reached on 0300 456 3565.
It was also confirmed that the reopening of the South West's main rail link will be delayed by up to another two weeks after more storm damage at Dawlish in Devon.
Network Rail will unveil a timescale for repairs on Wednesday.
Related Internet Links
The BBC is not responsible for the content of external sites.