Iran's largest private bank sues UK government for $4bn damages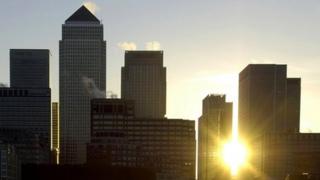 Bank Mellat, Iran's largest private bank, is suing the UK government for $4bn (£2.4bn) in damages after the Supreme Court quashed sanctions against it.
The sanctions were applied over the bank's alleged links to the country's nuclear programme.
Bank Mellat wants compensation for what it says is a "significant pecuniary loss" and substantial reputational damage.
The sanctions were imposed in 2009.
The claim was filed in London's High Court on Monday.
It claims the UK government also lobbied other authorities to impose sanctions that have lost it profitable business.
The bank's lawyer, Sarosh Zaiwalla, said: "[Bank Mellat] doesn't want to be in any way vindictive, it just wants justice."
'Irrational'
Sanctions have been imposed on Iran because authorities, including the UK, the US and Europe, believe it is trying to enrich uranium for use in atomic bombs, rather than simply for energy needs.
Western governments are now starting to loosen some of the sanctions, after Iran reached an interim deal with negotiators in November.
The UK's Supreme Court ruled last June that the UK government was wrong to have imposed the sanctions against Bank Mellat, calling it "irrational".
Mr Zaiwalla said "The Supreme Court said two things. One it found that procedurally the government got it wrong, and did not give Bank Mellat the opportunity to answer whether is was guilty of nuclear proliferation and secondly it had not done its homework.
"The judgement has shown and the present action is going to show - first a message to the world that in the UK what matters is rule of law and the British judiciary is completely independent and fearless like no other country in the world.
"And the second message is that in a democratic country the government has to act in a legal manner and can not act unlawfully."
Appeal
Bank Mellat also challenged sanctions imposed by the EU in the European Union's General Court,.
That court quashed the sanctions on grounds that EU governments had failed to provide enough information to support their case that the lender had assisted Iran's nuclear programme.
That decision is subject to appeal by EU governments and a decision is pending.
Meantime Bank Mellat's European operations are closed while the appeal is being considered.
A number of other Iranian companies are bringing similar suits.