Prisoner property damage payouts 'wasteful', says watchdog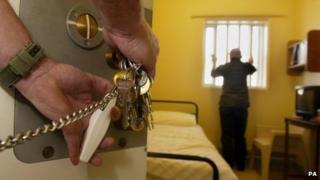 Taxpayers' money is being wasted on compensation awarded to prisoners over damaged property, a watchdog has said.
The Prisons and Probation Ombudsman (PPO) said more than half of complaints made to staff by inmates about items such as socks and stereos were upheld.
The ombudsman, Nigel Newcomen, urged prison staff to remember their responsibility to prisoners' property.
While many of the items lost or damaged were small in value, they meant a lot to people who had very little, he said.
About a fifth of all eligible complaints made to the PPO in 2012/13 were about property.
"Unfortunately, too many of the issues involved could and should have been dealt with more quickly and efficiently by the prisons concerned," Mr Newcomen said.
"Instead, despite perfectly sound national policies and instructions, prisons too often refuse to accept their responsibilities when property has been lost or damaged."
Inmates 'in limbo'
This, he said, left prisoners "in limbo", created unnecessary frustration and tension, and led to complaints.
One inmate, referred to as Mr K, complained after he was told the prison was holding a pair of socks in its correspondence department that had been disallowed.
Mr K claimed his family had in fact posted him five pairs of socks.
The ombudsman asked staff in the correspondence department to search for the remaining four pairs of socks.
But he was told that the prison had a vast storage area for disallowed items and staff would need senior authorisation to search for the missing socks.
Despite receiving agreement from a senior officer for further inquiries to be made, the ombudsman heard nothing back from the prison.
The amount of time spent on recovering the socks was deemed disproportionate to the seriousness of the complaint, and the ombudsman decided that the prison would pay a £5 goodwill gesture.
Mr Newcomen said many property-related complaints required independent adjudication.
"Using up scarce staff resources in this way, both in prison and then in my office, is not a good use of public money," he said.
Property guidelines
Inmates are allowed to have different items in their possession during their imprisonment, provided they adhere to guidelines set out in Prison Service rules.
Under the guidelines, complaints by prisoners about lost or damaged property are expected to be investigated.
Prisoners who have exhausted the internal complaints process and remain unhappy with the conclusion may submit their complaint to the PPO.
Another inmate, Mr H, complained to the ombudsman that his stereo had been damaged as he moved between prisons.
Following an investigation, Mr Newcomen decided that the prison Mr H had moved from was responsible for the damage.
He recommended it apologise to the prisoner and compensate him.