Police given more time to quiz Moazzam Begg and other terror suspects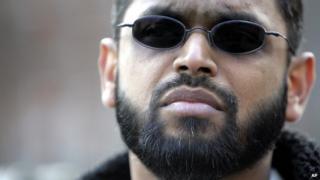 Police have been given an extra five days to question a former Guantanamo Bay detainee who was arrested on suspicion of Syria-related terrorism offences.
Moazzam Begg, 45 was arrested on Tuesday along with a 36-year-old man, a woman, 44, and a man, aged 20.
He was held on suspicion of attending a terrorist training camp and facilitating terrorism overseas.
Police said searches were continuing at three of the homes of those arrested.
Detectives from the West Midlands Counter Terrorism Unit said all four people were arrested as part of a "pre-planned operation", and the force stressed "there had been no immediate threat to public safety".
Detention camp
Mr Begg, who was arrested in Hall Green in Birmingham, is a British citizen who moved to Afghanistan with his family in 2001, before moving again to Pakistan in 2002 when the Afghanistan war started.
He was arrested in Islamabad in January 2002 and taken to Bagram internment centre in Afghanistan for about a year before being transferred to the Guantanamo Bay US detention camp in Cuba.
He was released in January 2005 with three other British citizens and returned to the UK.
Mr Begg, who is now a director of campaign group Cage, which helps the families of people who have been detained, has never been charged with an offence.
He has always maintained that he was only involved in charity work and has never been involved in any kind of terrorist activity.
Mr Begg was arrested on Tuesday and West Midlands police previously said that naming him did "not imply any guilt".
A spokeswoman added: "We are confirming this name as a result of the anticipated high public interest."
The other three people - a man, 36, from Shirley, in Solihull, and a 44-year-old woman, and a man, aged 20, both from Sparkhill, in Birmingham - are being held on suspicion of facilitating terrorism overseas.