Water cannon: Met Police 'does not have convincing case'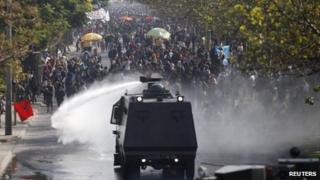 The Metropolitan Police force has not made a "convincing case" for buying three water cannon, a report says.
London Assembly's police and crime committee says that, with no specific intelligence of disorder, it is unclear why there is a "rush" to get them.
London Mayor Boris Johnson is consulting on plans to pay up to £300,000 for three second-hand water cannon from Germany.
The Met says water cannon would be "rarely seen and rarely used".
And it claims to have public support for the idea.
'Full debate'
They have been used in Northern Ireland but they are not currently authorised in Britain.
The home secretary must approve their introduction in England and Wales.
The committee says the move appears to have been driven by "frustration" at how long the Home Office is taking to decide whether to purchase water cannon as a "national asset" for all police forces.
And it says that, by pressing ahead, the Met is avoiding a "full and proper national debate on the issue".
Mr Johnson has said it is "highly likely that we will very rarely see these things on the streets of London, if ever".
"The question is how can we live with ourselves if we fail to give the police the capability in certain circumstances to avoid risk of injury?
"This is going to be a very rare beast indeed."
'Credible tactic'
During a police and crime committee last month, Assistant Commissioner Mark Rowley said that, when the "obvious objective" of protesters was "attacking a fixed location, such as Parliament, such as an embassy, such as the Millbank buildings, then you've got a small group of highly violent people... posing a lot of risk to the public".
"In those situations it's potentially a credible tactic."
The Association of Chief Police Officers (Acpo) has said the cannon would be a "national asset".
Their purchase could fill "a gap in the armoury in England and Wales", president Sir Hugh Orde has said.
He deployed the machines while chief constable of Northern Ireland between 2002 and 2009.
"Without it, I would have had more injured officers," he said.
'Chocolate teapot'
Acpo has suggested regional forces could contribute money to pay for the machines.
But forces in Manchester, Thames Valley, Merseyside and the West Midlands have said they do not support them.
West Midlands Police Commissioner Bob Jones has said they would be "as much use as a chocolate teapot" in stopping disorder, adding they would have been "no use whatsoever" in restoring order during the 2011 riots.
A public consultation, launched by Mr Johnson, to gather the views of Londoners on the use of water cannon will close on Friday.
Eyelids torn
A final decision by London policing authorities over whether to provide the funds to buy them is expected to follow.
But the cannon could only then be purchased if Home Secretary Theresa May decided to license their use in England and Wales.
Last week, a German man who was blinded by a water cannon in Germany came to the UK to warn against their use in London.
Retired engineer Dietrich Wagner was hit in the face at a protest in Stuttgart four years ago.
His eyelids were torn and some of the bones around his eyes were fractured, causing his eyeballs to fall out of their sockets.