Green Party vows to be 'vocal and visible'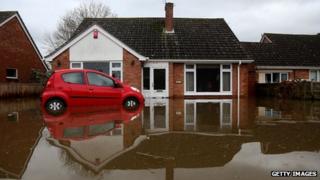 The gilded rooms of Liverpool's St George's Hall are a far plusher conference venue than the Green Party's motto "for the common good" might lead a delegate to expect.
But amid the chandeliers and the stained glass, the core business of being a Green activist is little changed.
Delegates can take part in sessions on Trident, protecting hedgehogs, "rewilding" the countryside and feminism - for boys.
Emergency motions for debate are chosen on the basis of the number of signatures on the official pin board in the Great Hall.
Uppermost on delegates' minds is what they refer to as the "three Fs": floods, fracking and foodbanks.
With the Somerset Levels still under water, growing concern over Prime Minister David Cameron's "fracking fantasy" and ongoing financial austerity, the Greens are convinced voters are more receptive to their message than ever before.
'Change is coming'
They sense a new appetite for policies that would leave fossil fuels in the ground, renationalise the railways and bring manufacturing and food production back to the UK.
"Change is coming," declared party leader Natalie Bennett, "and only the Greens offer the right kind of change".
With all that, it is easy to see the Greens' target of trebling - to six - the number of MEPs in May's European Parliament as a modest aim.
It would only require a 1.6 per cent swing, members calculate.
But the Greens admit they have not been particularly good at claiming credit when issues they have pursued for decades are suddenly at the forefront of public debate.
Mitigating the effects of climate change is a policy emblazoned on the heart of even the least committed Green activist - yet it is Labour leader Ed Miliband who wins headlines by echoing the party's call for the government to purge itself of "deniers".
Replacing the minimum wage with a higher living wage is another key Green policy, widely advocated by its councillors and assembly members - yet it is Conservative Mayor Boris Johnson who takes a bow when rates in London go up.
So the Greens intend to become more vocal and more visible.
'Gender balance'
When their conference is done, many will decamp to York to make their concerns known at the Liberal Democrats' spring get-together.
The party will take its fight to the broadcasters too.
Ms Bennett may have branded Liberal Democrat leader Nick Clegg and UKIP leader Nigel Farage the UK's "noisiest political minnows" but she still wants to be included in their TV debate ahead of May's poll.
She is also demanding a place in the leaders' debates ahead of the 2015 general election.
The Greens' policies, she argues, are popular enough to warrant a place behind the lectern.
It is also, she jokes, the only way to get any "gender balance".