Foreign Office tells UK citizens to leave Crimea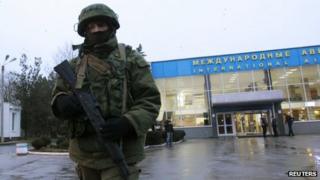 The Foreign Office has urged all UK citizens in Crimea to leave amid escalating violence.
It is also advising against all travel to the peninsula in the south of troubled Ukraine, with those remaining advised to "keep a low profile".
The guidance came as Prime Minister David Cameron spoke to Vladmir Putin on the telephone, urging Moscow to respect Ukraine's territorial integrity.
The foreign secretary confirmed he will travel to Kiev on Sunday.
William Hague said he had spoken to the country's interim President Oleksandr Turchynov and will have talks with Ukraine's new government when he is in the capital.
The Foreign Office had already advised against all but essential travel to Crimea.
A spokesperson said: "We advise against travel when we consider the level of risk to British nationals has become unacceptably high.
"We judge that the level of risk in the Crimea Peninsula has reached this point: armed men are reported to have seized Simferopol airport; Sevastopol (Belbek) airport is reported to be blocked by military, and flights are not operating."
Anyone currently visiting, or living in, Crimea should now leave by commercial means, the Foreign Office added.
It did not provide an exact number of the number of Britons currently in Crimea, but said "a very small number of people" were affected.
It warned British nationals not to attempt to leave from the international airport at Simferopol. Train routes are still operating, according to the advice.
Following the revolution in Ukraine, which led to the fall of President Viktor Yanukovych, there are fears Crimea could become a battleground between forces loyal to Ukraine and Russia.
In his first public appearance since being ousted as president last week, Mr Yanukovych said on Friday that he had not been "overthrown" but was forced to leave Ukraine after his life was threatened.
'Escalating tensions'
Russia's President Putin has spoken to Western leaders to emphasise "the extreme importance of not allowing a further escalation of violence", the Kremlin said.
A Downing Street spokeswoman said: "The prime minister called President Putin today to discuss the situation in Ukraine, particularly the escalating tensions in Crimea.
"The prime minister emphasised that all countries should respect the territorial integrity and sovereignty of Ukraine.
"President Putin agreed, stressing that Russian military exercises in the area had been planned before the current situation in Ukraine. The two leaders discussed how the international community could support Ukraine on the path to stability.
"They agreed that the free and fair elections that the interim government has pledged to hold are the best way to secure a positive future for Ukraine in which all Ukrainian people are represented."