Ukrainians in UK voice fears for loved ones back home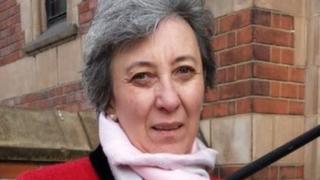 Sirens have been ringing in parts of Ukraine, urging its people to prepare for war.
And 1,500 miles away in London, Ukrainian expats gathering at church on Sunday spoke of their terror of what might happen after Russian troops deployed to their home soil.
Some planned to protest at the Russian Embassy and they told the BBC of their anger and fear.
A tearful Maria Boretska said she was scared for the lives of her family.
"I'm in touch with them every day, on the internet, on Skype," the 55-year-old said.
"They are frightened. They don't know what is happening today, the next day, the day after that."
Mrs Boretska, a cleaner living in London, moved to the UK 16 years ago with her husband and children.
But most of her family remain in the the city of Lviv in western Ukraine.
She said she fears that the Russian President Vladimir Putin wants war - and with a nation that wants to live the western way, with "nice lives and work and everything".
Yuriy Zozulia from Ternopol also in western Ukraine, shared her fears.
Mr Zozulia, 50, moved to the UK two years ago and was hoping to return home in the summer, but he does not want to go back to a war-torn country.
He said his main concern last week was the ousted Ukranian president Viktor Yanukovych and his reign of alleged corruption.
But now it is President Putin, the arrival of Russian troops and the threat of war.
"The violence in Kiev last week was very bad. Many people died. It was sad. But my first worry now is Putin and what he might do," Mr Zozulia said.
"I wanted to go home, but I will have to wait and see what might become of the country."
Russia has deployed troops to the Ukrainian peninsula of Crimea - against the wishes of the new government in Kiev.
The Russian president has said he wants to protect Russian speakers living in Ukraine. The majority of those in Crimea, in the east of the country, speak the language.
This follows months of political upheaval in Ukraine, that led to bloody protests and the eventual ousting of president Yanukovych last week.
Both Mr Zozulia and Mrs Boretska were attending the Ukrainian Catholic Cathedral of the Holy Family in Exile, central London.
For weeks the presiding priests at the cathedral, near London's Bond Street, have been encouraging churchgoers to support the anti-government movement in their home country.
On his way into the church, Andy Klymchuk said people were urged to attend a nearby peaceful protest following the service - at both the Russian and US embassies.
"Everyone is just horrified. I can't think of any other way to put it," the 58-year-old English teacher said.
"We thought there was enough killing on the streets of Kiev last week. But now we have the Russians walking in. People have always said Russia has always been our number one big problem."
Mr Klymchuk was born in the UK to an English mother and Ukrainian father, who left the once Soviet nation following World War Two.
"I don't want to go to war, no one does," said Mr Klymchuk.
But the father-of-three warned it may be inevitable.
"Putin has always said he never recognised Ukraine sovereignty," he said.
Mr Klymchuk's children, who are now all adults, have become actively involved in recent peaceful protests in the UK.
He said while they do not speak much Ukrainian, "they can see what is going on".
"Putin says he is protecting Russian speakers in Ukraine, but being a Russian speaker doesn't mean you're not Ukrainian," Mr Klymchuk said.
He said of Putin: "We're dealing with a loose cannon here."
His wife, Ksenia Klymchuk, said she could not find words to describe how she was feeling about the unfolding events.
The textiles teacher, who was also born in the UK to a Ukrainian family, said relatives in the western town of Kalush were left terrified by the sounds of sirens on Saturday.
"Sirens were going off, presumably to get people to mobilise, to prepare them for a potential invasion," the 55-year-old said.
"People are worried because they don't know what is going to happen. Will the Russians stop in Crimea? Or will they march forward into the west? We can only hope it goes no further than it has."
Mr and Mrs Klymchuk are both heavily involved with the Ukrainian Social Club, in west London.
It was set up by their parents' generation to allow the community to come together and keep in touch with their roots.
The Klymchuks said that members of the club watched in "horror" television reports of the violent clashes in Kiev last week.
Bohdanka Todosyiv, whose family attends the club, said the whole world was watching Ukraine.
Mrs Todosyiv, a pharmacist and mother-of-three, said she came from a family of freedom fighters.
Her father moved to the UK in the 1940s, having also spent time seeking refuge in Siberia.
She said people must not be complacent about the level of upheaval in Ukraine.
"The ousting of Yanukovych last week gave people hope that things would improve," Mrs Todosyiv said.
"People are silly that way, they always think things will get better. But this is very worrying and people are rightly scared, my family among them."
But as a reminder that the nation's young people were willing to continue fighting for their country's independence, Stefan Feroian said he would keep demonstrating for Ukraine - anywhere in the world.
The 26-year-old builder from Ternopol said being away from home left him feeling helpless.
"My family are scared and I am not there," he said.