Senior judges attack government's planned court cost rise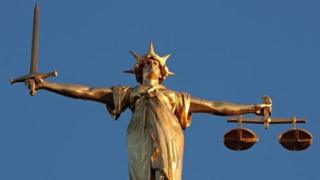 Government plans to increase the cost of going to court in England and Wales would undermine the civil and family justice system, top judges have said.
The criticism comes in an official response from the senior judiciary to the consultation on the plans.
It says they would increase the cost to litigants and provide no tangible benefit to them or the judicial system.
But the government said "hardworking taxpayers" should not have to subsidise the legal quarrels of millionaires.
The two central proposals put forward by the Ministry of Justice (MoJ) are:
To increase the cost of court fees in an effort to reduce the civil and family courts' £150m annual deficit.
To introduce 'enhanced court fees' in some cases, which would be over and above the cost of the proceedings.
The second proposal is intended to fund what remains of the deficit after the recovery of costs in the first proposal takes effect. The judges say this is a "novel concept" and "represents a departure from the Government's policy of not charging more than a service costs."
'Millionaires'
The changes would involve raising the costs of getting a divorce, and other civil claims, in an effort to generate extra money for Her Majesty's Courts and Tribunals Service (HMCTS).
The MoJ said that the plans would not affect the number of people using the judicial system - but the judiciary in its response said this "appears to contradict a basic law of economics".
It warned of a "vicious circle" caused by decreased volume of business in the courts, pushing up the costs of individual cases still more.
"Is it right that parties in civil proceedings, many of whom will not have money to spare, should subsidise proceedings between divorcing couples, still less proceedings for the protection of children?" the judges' response asks.
Courts minister Shailesh Vara said the courts of England and Wales were the "best in the world", and that the government wanted the system "properly funded to keep it that way".
He said: "Hardworking taxpayers should not have to subsidise millionaires embroiled in long cases fighting over vast amounts of money, and we are redressing that balance.
"Vulnerable groups must also be protected, which is why we are keeping fees the same for sensitive family issues, including adoption applications and child contact. Moreover, we are scrapping the application fee for victims of domestic violence seeking injunctions to protect themselves."