People trafficking: Ordeal for those coming to UK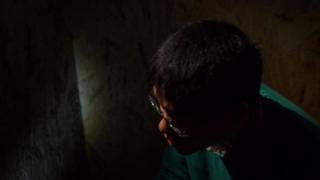 People trafficked into the UK may already have spent years travelling before they arrive, a BBC investigation has found. They also face violence and are treated like slaves by the criminal gangs transporting them.
The world of the traffickers is brutal and hard to track.
The BBC has either spoken to or been given the detailed testimony of five Vietnamese people, one adult and four children.
All remain terrified of their traffickers.
Their stories are strikingly similar and experts say reflect the journeys taken by many others.
One boy left Vietnam when he was seven, and it was four years before he arrived in England hidden in the back of a lorry.
"I was threatened and given verbal abuse throughout my journey to the UK," he said.
"They had guns and we were told that we had to keep quiet and we couldn't talk to each other, otherwise they would use the guns."
He was an orphan and was given no choice about going.
'Threatened and raped'
For many Vietnamese who are trafficked, the journey starts when poor families in rural areas borrow money to pay gangs who have promised a better life or an education.
On the way from Vietnam, there were long stops in places like China and Russia.
A woman we heard from did not know which country she was heading for, but believed she would get a restaurant job and would be able to send wages home to her family.
The reality was very different.
"When we got to Russia we stayed there for four or five days," she said.
"They took us into an empty house, they did not let us go out. The people keeping us there were Vietnamese, they threatened me and raped me. I was also raped in Cambodia."
Four out of the five Vietnamese people we heard from arrived in the UK in the back of lorries.
"I have no idea if we came on the boat or tunnel, but we came in a lorry," the boy remembered.
"It was carrying boxes, they put me in a big box. They said just stay still. I had to eat and drink and go the toilet in the corner."
'Stamp out slavery'
The Chief Inspector of UK Borders and Immigration, John Vine, said he wanted more checks on lorries arriving in the UK to get a clearer picture of the number of children being trafficked.
"If we're going to intercept many of these vulnerable young people who are entering this country illegally, then the authorities' efforts in stopping those vehicles is absolutely vital in order to safeguard these young people from criminal exploitation," he said.
The government said it was taking steps to tackle modern slavery and exploitation.
"We are doing more than any previous government to stamp out modern slavery and to protect victims inland, at our borders and overseas," the Home Office said in a statement.
"Specialist anti-slavery teams led by Border Force are being deployed at major ports, we are strengthening controls at Calais and we are working with source countries to prevent people falling prey to traffickers in the first place."
The destinations for the five Vietnamese we tracked were illegal cannabis farms in this country.
Some spent years locked in tending plants, while the gangs involved made millions.
Philippa Southwell, of Birds Solicitors, represents many victims of trafficking.
"It's not a life," she said. "They've been enslaved... they're functioning as machines.
"Sometimes they haven't seen daylight in years... it is very hard to grasp... if they are locked in the cannabis house with another individual they are not allowed to speak with each other and they obey those commands."
After police raids, four of the five people we heard from ended up either in prison or young offenders institutions.
The Vietnamese woman, who is appealing against her conviction, has a warning for others.
"I am scared of the traffickers because they are part of a big organisation, they are part of the underworld," she said.
"I want to tell everyone that they have to be clear and should not believe these people who promise jobs for people with poor backgrounds like myself. They then fall into their traps."